What matters
Rammed earth – the amazing clay architecture of Martin Rauch
"Rammed earth has the potential to become a fully viable alternative to existing building materials and technologies, which place great demands on resources and require costly transportation," says an enthusiastic Martin Rauch. Top architectural studios are already vying with each other to co-operate with the Austrian earth maestro. Rauch's finished works excel both in terms of aesthetic and technological advancement. An exhibition of his works entitled "Refined Earth" (Formovat zemi) is currently underway in the House of Art, České Budějovice in Southern Bohemia.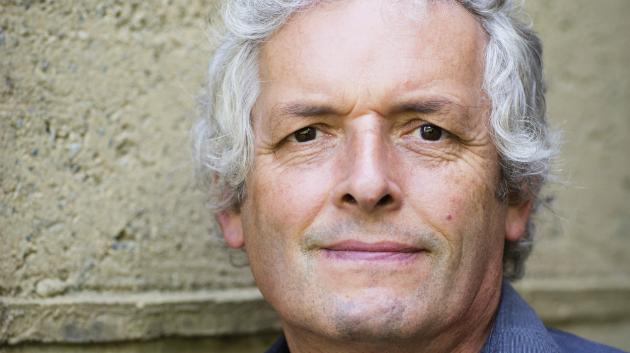 Martin Rauch began as a ceramicist, sculptor and oven maker. His earthwork was expanded over time to encompass large spaces and liveable structures, whose forms also served as outlets for Rauch's developing artistic sensibilities. At the University of Applied Arts Vienna, instead of creating the requested ceramic service set, Rauch submitted a final work entitled "Lehm Ton Erde" (Soil Clay Earth). In it he described the modernisation of rammed earth construction technology.
Rauch's path towards environmentally friendly and aesthetically pleasing architecture began during his student days. Today, he is pointing towards a methodology with which humans can return to nature, while also preventing its contamination. Rauch utilises local materials in his work, although his aspirations are of a global nature. He says that he is seeking to win over the majority of the planet's population to this technology. And Rauch believes that he can contribute towards improving our quality of life.
Sceptics are presented with the details of the merits of rammed earth, including evidence of its toughness and resilience. Rauch also explains the background and development of his technology, and presents this in a wider context. During thirty years of research and practice he has worked with a number of renowned architects and artists including Olafur Eliasson, Herzog & de Meuron, Theo Lüthi, Roger Boltshauser, Marte Marte and Simon Starling. The significance of Rauch's work is also underscored by growing interest from students and professionals from across the globe, who seek a place at one of the artist's workshops or research fellowships. At present, demand significantly exceeds available capacities.
Clay can take it
Martin Rauch has set out to convince people that modern construction and architecture can viably utilise multi-storey clay buildings. Despite his efforts, some cannot yet shake-off an instinctive distrust of rammed earth as a load-bearing material. What are the main reasons for this? "For us, as home dwellers, it is hard to psychologically accept the concept of erosion, that something dwindles," explains Martin Rauch at the opening of his Refined Earth exhibition in České Budějovice. Perhaps it is because we subconsciously view earth not just as a material, but also as a living and changing element. "Erosion continues all the time; it is a natural cycle of materials, and when we adapt to its mechanisms, then this force need not be destructive," he adds.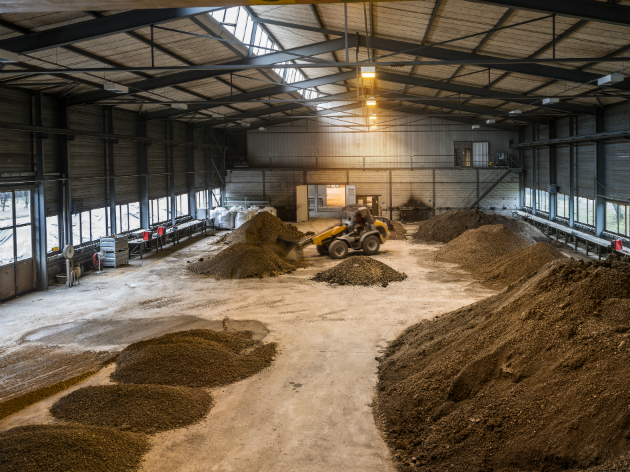 Mixing up an ideal ratio of clay and smaller and larger stones is one of the central factors in the success of the entire technology (photo: Ricola)
But how to build a wall from rammed earth without any additional binding agents so as to ensure it is resistant long-term against the effects of water? Martin Rauch explains the process in detail in his Refined Earth monograph. The book, published in 2015, is not just an overview of Rauch's successes, but also seeks to serve as a manual of sorts for others interested in this field. "Water only carries away materials with it when flowing at a fast enough speed," notes Rauch in the book. He also adds that walls must be properly sealed from two sides – under a roof and from the ground up. Which then means that only the side walls are exposed; occasionally, some material flows away from there, but after some time, the structure of the clay itself prevents the erosion process. When the fine top layer washes off, stones of various sizes in the clay/earth mix are exposed. Water then flows along and through this more slowly – thanks to this transformation water no longer washes away the fine clay/earth. During rain, the clay which remains between the stones swells and prevents water from seeping deeper into the wall. In order to minimise the process of erosion, layers of bricks and stones are placed into the wall.
The fact that clay is soluble in water is not a disadvantage in terms of constructing clay buildings, but rather a fundamental asset. "Walls made from clay are highly absorbent and thus soak up humidity, creating a healthy micro-climate," says Rauch of a property which is also utilised in clay interior plastering. And, for a change, a clay floor does not freeze through in winter, and cools in the summer; it is thus more comfortable in contact with the human skin than cold stones or ceramic tiles.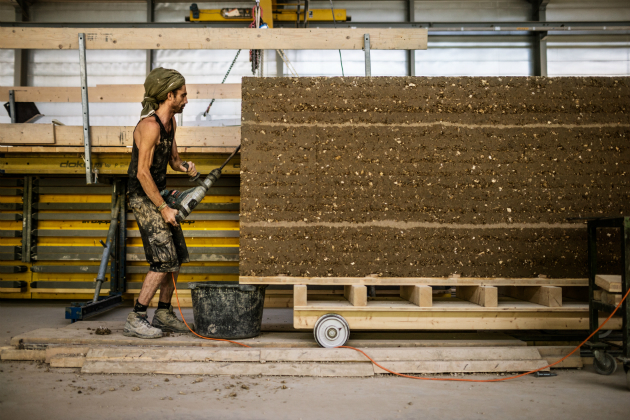 Rammed earth components can be pre-fabricated in a factory so as to speed up the process. Special connecting grooves then allow such components to easily join-up. They are joined together with fresh clay in a similar manner as bricks are joined with mortar. (photo: Ricola)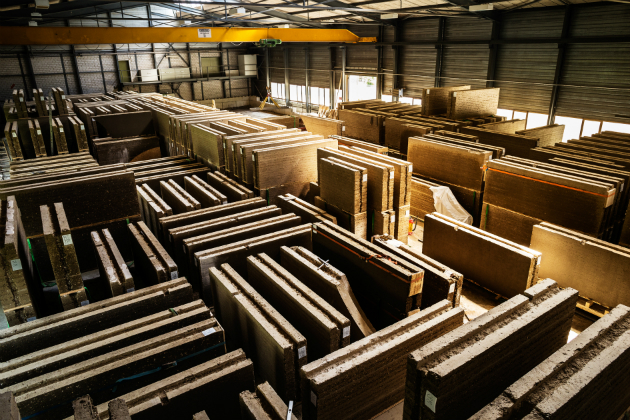 One notable environmental aspect of rammed earth buildings is the local availability of construction materials. Each piece of land can serve as a good foundation source for its future walls, and if it is the very earth used during the digging of a house's foundations, then Rauch doesn't even have to travel anywhere. Sometimes, the composition of such acquired earth needs to be enriched with gravel or stones ground to various sizes so as to prevent it from either being too viscous or too dry. This then ensures that the principle of calculated erosion, as already described, can function properly. Mixing together such a substance requires knowledge and experience; but the ingredients themselves are neither special nor expensive. If an investor and a workshop both have enough time, then moulds can be used to help construction on the spot. An even faster method is represented by creating slabs and blocks in a factory which are then taken and assembled at the construction location.
The costliest aspect of rammed earth construction is represented by the large need for labour. But that can also be an advantage, says Rauch. In developing countries, utilising mud for construction is common, although often this carries a connotation associated with the cheapest form of poverty-stricken housing. The successful workshops organised by Martin Rauch for various communities, including Dhaka, Bangladesh, brought both prestige and a fresh viewpoint on this construction material. Rauch believes that his technology for processing earth can help to solve housing crises in the countries of the Global South.

Martin Rauch's Refined Earth exhibition can be seen until August 13 at the House of Art, České Budějovice
Hobbled by the status quo
According to Rauch, the greatest impediment to the further proliferation of rammed earth architecture are the existing rules and regulations that govern the construction industry. "From the outset most of my work has, in effect, been carried out illegally. If I had to follow all the rules, and to wait and pay for all the dictated tests, then I would not have even got off the ground." Rauch also added a side note in this regard, saying that all the strict construction regulations are one of the reasons why more and more European universities are moving their studies beyond Europe and to places where they can freely carry out their experiments.
Creating quality, functional and, last but not least, beautiful buildings is something which Rauch believes serves as the best means to persuade professionals in the field and also legislative authorities of the respective merits of rammed earth construction. That this will be a long journey is, for example, illustrated by the example of constructing the Chapel of Reconciliation in Berlin, which was built on the site of the former Berlin Wall between 1999-2000. The oval structure featuring seven-metre-high pressed clay walls, a clay floor and even altar was the first in hundreds of years to be built in modern Berlin. But the authorities overseeing the project found themselves in uncharted waters, lacking clear regulations to guide construction. A series of often expensive tests followed, requiring, for example, a seven-times-higher load-bearing capability than is standard. Building work was monitored externally by a team from the University of Berlin, and it took a number of years for expert opinions and approvals to be gained. "At the end of the process, an age-old global construction technology could finally be recognised, even in these technological times," says Rauch of the legal ordeal of gaining approval for the structure. However, the Chapel and a number of other public rammed earth construction projects have enabled Rauch to finally shake off the label of a naive environmental experimenter, and enabled his process to cultivate a reputation as a viable and technologically advanced means to create modern architecture. "It takes three generations for a construction method to become universally recognised, accepted and utilised," argues Rauch.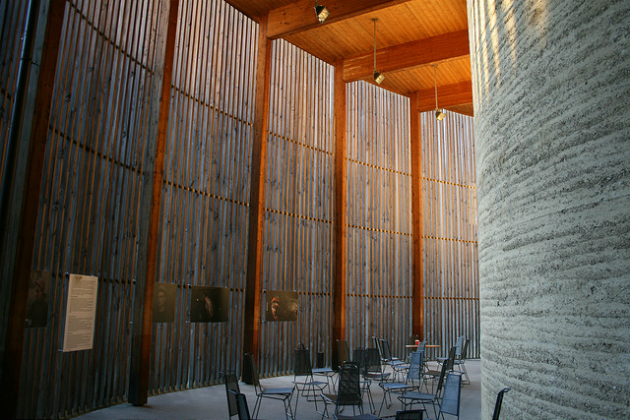 Kapelle der Versöhnung (Chapel of Reconciliation) in Berlin (photo: Ceetap, Flickr, 2015, CC BY-NC-ND 2.0)
"When humanity discovered concrete, steel, various plastics, and synthetic insulation materials, it ended up abandoning or sidelining traditional materials," says Rauch, directly appealing to visitors of the exhibition in České Budějovice. "However, the manner by which we largely construct today will mean that we soon exhaust our resources. We need to re-evaluate the way we are using such materials today." Rauch continues: "But in order for us to fully utilise earth we first need to devote ourselves to this substance. To begin again from the point in history at which we abandoned it, and to follow on from the artistic skills of our ancestors, and to innovate on from this foundation, and to further develop it towards present standards of living and the needs of modern people." According to Rauch, disseminating the technology associated with rammed earth is key to such development. "As a material that is accessible anywhere, earth will never provide a strong enough profit margin to cause a change to originate via new services offered by construction companies. However, many universities are expressing an interest, with students at workshops gaining an understanding and admiration for this material. In the future, such people can further propagate usage of this material in their work."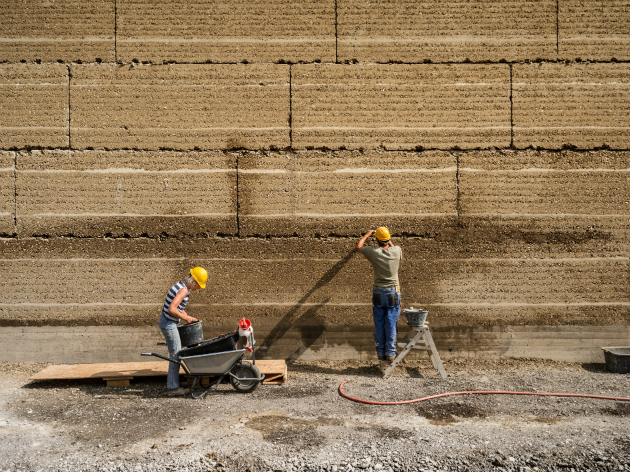 Naturally moist, clayey gravel material is loosely packed in layers of 10-15 centimetres. These are then rammed, usually with pneumatic hammers, to a width of 6-8 centimetres. This layering system creates an optically evident structure, characteristic for this kind of production approach. When construction starts from scratch directly at the building location, then a damp wall can rise up as high as three metres, but then needs to be left to completely dry. After it hardens further construction can continue. (photo: Ricola)
Enthused apprentices
The exhibition in south Bohemia was preceded by a two day workshop. During that time, under Rauch's guidance, architecture graduates and students created, among other items, a series of construction blocks, which now form part of the exhibition. According to one of the participants, architect Alžběta Brůhová, the experience was highly beneficial: "We gained much practical information and advice, and Martin Rauch also gave a lecture." One somewhat surprising fact is that the clay/earth used by the students was in fact imported from neighbouring Austria.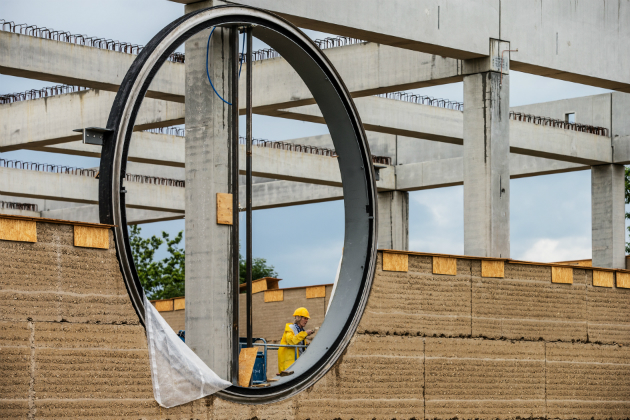 Facade windows add curvature to angular lines (photo: Ricola)
The programme of the gallery in Česke Budějovice offers a good opportunity for visitors to acquaint themselves with Rauch's work. Indeed, Rauch himself only organises archetypal teaching courses very rarely. His firm Lehm Ton Erde offers internships by way of working apprenticeships. As part of this Rauch takes on a number of newbie workers to join his team of experienced craftsmen in fulfilling a commission. In a typical manner for such programmes, participants are promised a both fun and engaging education experience. Applicant lists far exceed the capacities of Rauch's operations.
Asides from lucrative commissions undertaken in conjunction with renowned studios Lehm Ton Erde also provides expert oversight and assistance for private construction efforts. "We come across many ideas in which the originators lack sufficient funds to hire a construction company to carry out design and construction. In such cases we offer a number of our experienced builders, who organise construction and impart what knowledge they can to the novices," explains Rauch of his firm's multifaceted operations. Rauch also emphasises that perfectly executed constructions, which can then serve as showcases, are ideal opportunities to hire as many enthusiastic novices as possible. These can then learn the skills of the trade the same way Rauch did for a good many years.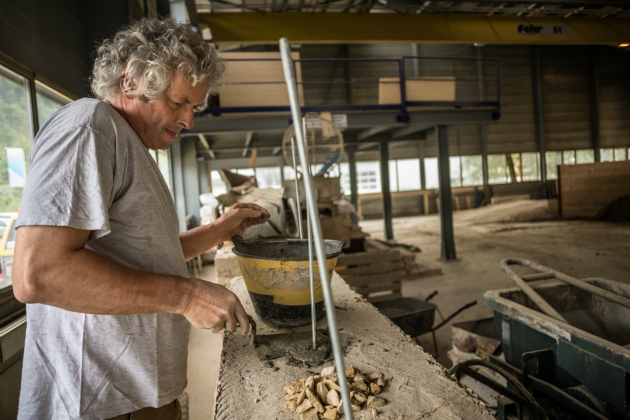 Martin Rauch at work (photo: Ricola)
At the close of the preview event, Martin Rauch thanks the House of Art, České Budějovice, headed by curator Michal Škoda, for its assistance in mounting the exhibition. Rauch also does not fail to mention his very first investors – friends and supporters, willing to take a risk, who provided the artist with his first crucial experiences. Rauch also thanks the group of students who helped him prepare the installation during the workshop.
Text and exhibition photo: Kateřina Zvelebilová; first photo of Martin Rauch by Frank Stolle; translated by Dominik Jůn
12. 7. 2017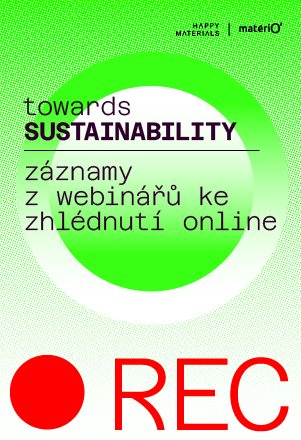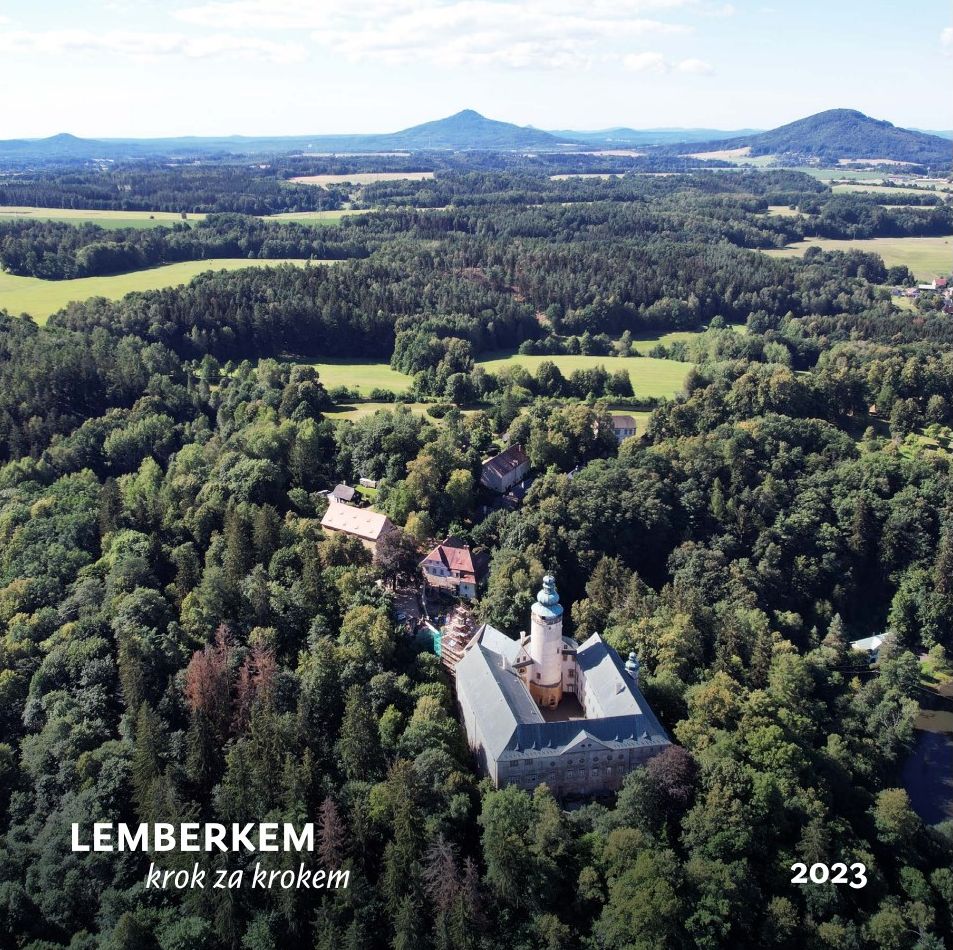 LATEST COMMENTS