Viewpoint
Barbora Vaníčková: I am a seamstress, but trust me, I am not stupid
Knock, knock, knock… someone is gently knocking on the door while I am trying to remember why, why exactly did I turn my life upside down, dropped a promising journalism career and became a seamstress? And, on top of that, in Canada!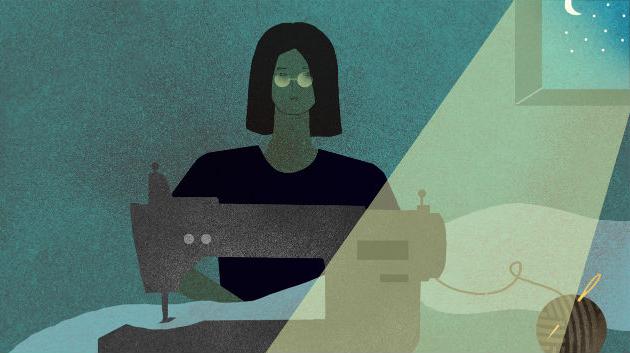 ► For Czech version click here
On a Friday evening, it was around 8:30 PM, a guy in a yellow puffy jacket and grey sweatpants showed up at my doorstep to collect his pants which I had hemmed in for him. I wasn't expecting him that late and I felt an urge to send him to the bloody hell. But he presented me with 15 dollars and a happy smile, so I started a friendly chat instead: "It is snowing, right? Up to 12 centimetres tomorrow!" His eyes lit up: "I´ll celebrate it with a glass of champagne, just one, I must get up tomorrow to beat the crowds! And thank you for the pants, I mentioned you at work…my buddy would have some work for you, too… Can you replace a jacket zipper? Can you? Can I give him your number? Is it OK? Perfect, he´ll call you tomorrow!! Great to find you, nobody else can fix stuff like this around here. Thanks again and have a good night!"
As you can tell, my only marketing tool is the word of mouth. It works 100% and it is cost free. Am I a loony?
I am pretty sure that I will not hear from the friend tomorrow, but I don't care. He will call in a week, a month or so. No one else will replace his zipper anyway. When I started this full time sewing business 2 years ago, the reluctance of the local ski bums kept driving me crazy. 1000 messages and many missed meetings later… I couldn't care less. In a town which truly lives to its motto "NO FRIENDS ON POWDER DAYS" you can't trust anyone's word. The snowfall rules everything, people have 2 to 4 jobs and they simply come when it suits them.
My adventure started with the purchase of a Singer sewing machine for 100 dollars. By the time I discovered that I was using the pedal the wrong way, I was almost a pro! I taught myself from library books and YouTube videos (as my boyfriend says - you can learn anything from YouTube). I learned how to sew in almost no time! Back home, I was never allowed to use the sewing machine. My grand granny only let me press the pedal without the needle since I had sewn my mom´s finger trough when I was 2 years old.
But the hours I spent watching the two great seamstresses of our family had a deep impact on me and I truly believe I have sewing somehow written in my DNA. Once I sat down at the machine, it all came to life again. I remain slightly frustrated with my lack of formal sewing training or education. Czechs prefer to get proper training or education before they get into their business or they just study a subject for five years simply to get a job in a completely different field. It may be that the absence of proper training has made me able to deal with every challenge I´ve been exposed to. Sometimes it takes me a week or two months to get the courage, but I always make things happen at the end. Materials usually tell me exactly what to do and I just watch around and follow the suit - there is no point in fighting the fabric and trying to do it your way. It may only lead to a disaster, tangled threads, ripped seams and, sometimes, bitter tears.
My projects came in the following order:
1. A red/green cushion
2. Another red/green cushion
3. A satin gown inspired by the Great Gatsby, which I made without a pattern and in the absence of any clues of how to do it!
The transformation on our cute little apartment to a messy sewing studio was fast and effective. My excitement was flying at the speed of light. During the next couple of days, my business spread literally everywhere - my genius method of applying glue to fabric to decorate it with glitters was only partially successful and a good number of glitters stuck to every possible place in the studio starting with the carpet, the dishwasher and the toilet and ending with my boyfriend. For a week, I neither slept nor ate and just worked on my masterpiece with complete madness. My effort paid back and I won the best costume award at our staff party, the very moment that launched my sewing career – or a life mission? The exciting news of a Czech seamstress was rolling over the ski town like an avalanche. And so was I - riding a borrowed bike around the village with a backpack full of ripped stinky clothes which I collected from local dudes and chicks.
When my friends were out hiking and camping, I spent every free minute after work sitting at my sewing machine to deliver the clothes as soon as possible and to collect my 5 bucks´ fee. Why? Don't ask me! Why would I have in average 2 to 4 jobs and spent my evenings running this weird little business? Why I didn't go back to the Czech Republic to journalism I had graduated from and which I am apparently good at? I guess it was simply my female EGO (yes, women also have that!!!). An absolutely blind need to defend my point, to show that I can make it without my family, the language, my field of study… To put it simply, I was suffering from a simultaneous attack of total naivety and dementia!
Don't worry; this story doesn't end with a lame happy end! I didn't become filthy rich and I am not sending this letter from a hotel lounge in Hawaii. I am sending it from my one bedroom apartment which is half filled with my customers´ crap and sewing supplies. But everything started to turn in the right direction about half a year ago - I work less and I make more. I started to give classes at a beautiful and spacious downtown studio. After the class, I usually stay around to enjoy the empty space by myself. It will sound weird but I am good, my own boss with my own time. The only thing which scares the hell out of me is how far I´ve actually gotten from my original plans. But when I imagine how far I will be in the next couple of years, I can't be any happier.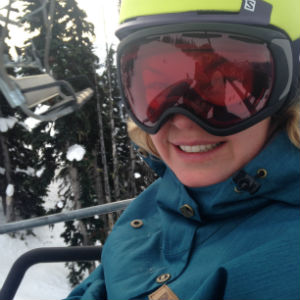 Barbora Vaníčková studied journalism at the Charles University in Prague. One year after her graduation, she moved to Whistler, a mountain resort in Canada, where she worked many different jobs, including a marshmallow station assistant. Three years ago, she launched her own company called Whistler Sewing Services.
17. 4. 2018 Edited by Patricie Klimešová Vlachová, Illustration: Taja Spassková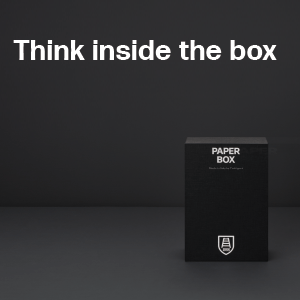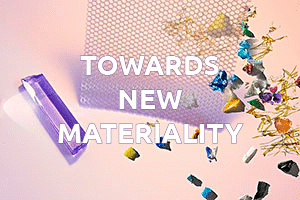 LATEST COMMENTS