Opinion
Dana Siedem: Which Bird Song is Coming Out of Your Cup of Coffee?
The singing of migratory birds returning back from their winter homes announces the arrival of spring. Some of these migratory birds spend their winter in the coffee-producing tropical regions. Different methods of coffee production not only have an impact on coffee flavors, but radically affect the lives of those birds that we know from our own gardens and forests. Conscious decision-making while choosing which coffee beans to buy can change their destiny.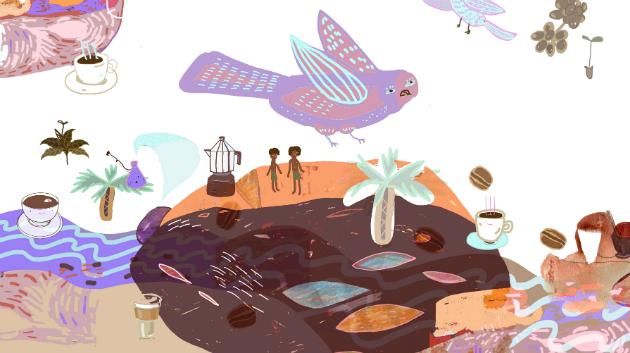 ► český překlad textu najdete zde
Last year I visited a forest farm in a remote area of Western Ethiopia, where you can hear birds chirping in the tree canopies - high above the people and tens of meters above the coffee plants. I became interested in the traditional ways (shade-grown) of coffee production during my post-graduate studies. The coffee plants that are grown using this method grow in the wild in primary forests or on forest-like farms where the canopy has been grown cultivated artificially. In both cases, the shade-grown plantations provide a hospitable and natural habitat for birds and other fauna and flora.
Together with David (our guide and the co-owner of the farm in one) we finally reached a dense forest after driving on a dusty and bumpy 'route'. David invited us to see the coffee plants of Joseph, a local farmer working on a lot called Kinka. I carefully climbed over fallen branches and had to dodge others threatening to poke my eyes. Our group expected coffee plants in some sort of line, and of course under a tree canopy, but we never anticipated to see what we saw there.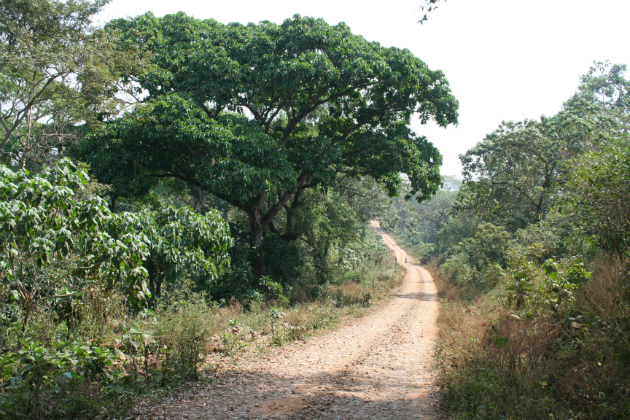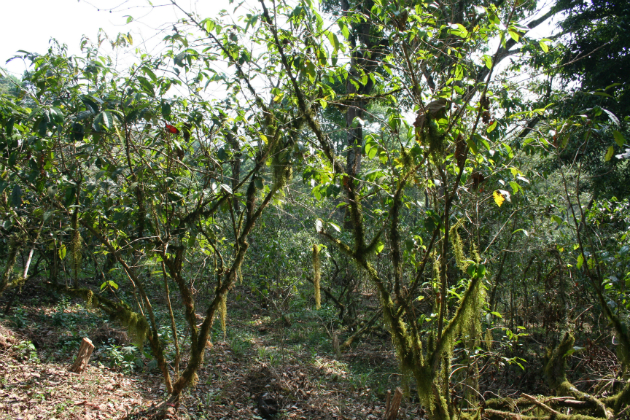 Dusty road and coffee 'plantations' on both sides. Farmer's Joseph's plantation on the right.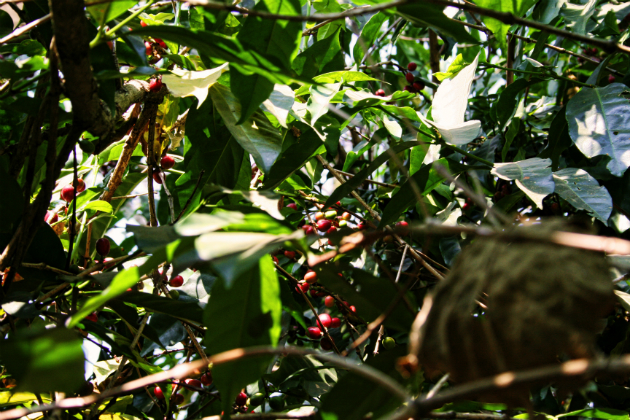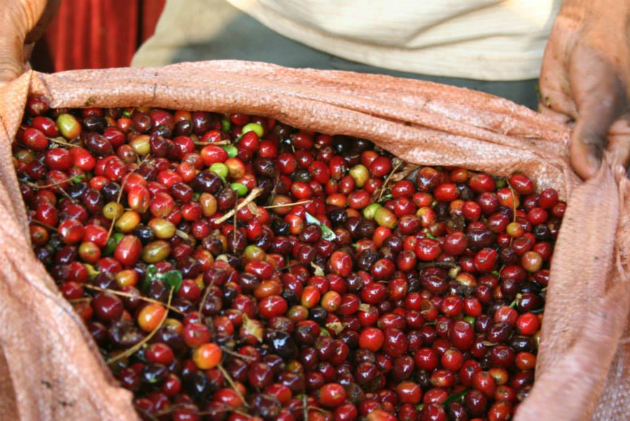 Ripening coffee cherries and freshly picked cherries.
"That is my farm," Joseph pointed at the area of densely grown forest. At that moment, I realized that our expedition to a coffee farm was really a trip to visit a Western Ethiopian community that lives in small forest villages and makes their primary living by collecting coffee cherries. The coffee in this area grows completely wild and the farmers collect it in the midst of forest - not unlike collecting wild berries during the summer in Europe.
The Arabica coffee plants were first discovered in dense Ethiopian forests, where they grew wild and in some cases still do. A recently published research featured in National Geographic announced that forest coffee production of Arabica in Ethiopia demonstrates the best practice for the conservation of biodiversity. In addition, it confirmed that Ethiopian forest farms provide the best habitat for birds, compared to other eco farms. This is good news!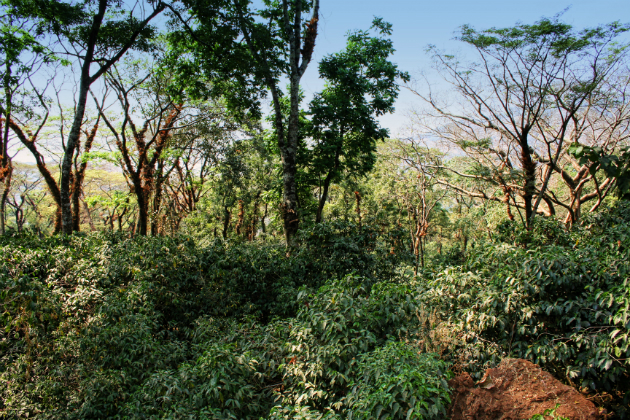 Coffee grown in the shade. According to the Smithsonian Migratory Bird Center's definition of shade-growing, it requires the shade to cover at least 40 percent.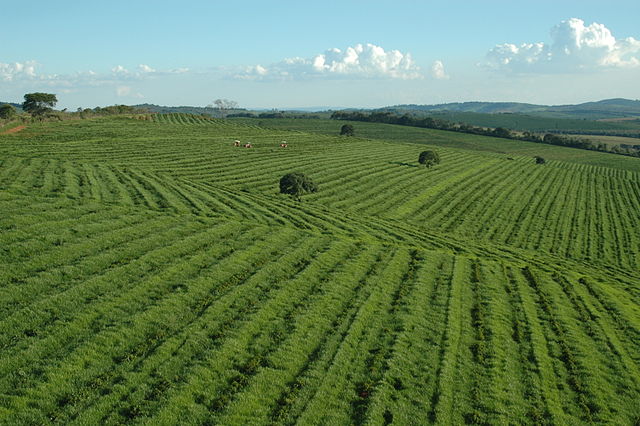 The monoculture coffee plants grown in rows in a vast areas without any other surrounding trees. (Photo: Knase, 2009)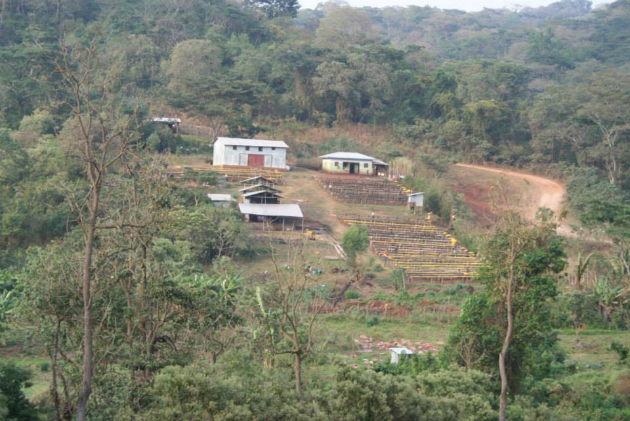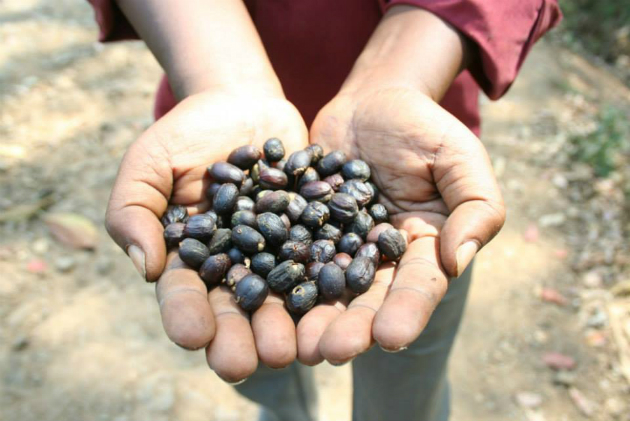 A view of the Yeti Agroforestry Farm´s washing station. Farmer Yoseph showing a part of their harvest on the right.
In the last few decades of the 20th century however, we have observed an alarming decrease of migratory birds on a global level. Even before that, the famous pioneer in environmental protection, Rachel Carson, warned about this issue in her book Silent Spring. Ornithologists of the American Smithsonian Institution have concluded that one of the main drivers leading to migratory bird decrease is the uncontrolled degradation of tropical primary forests.
Global coffee demand is increasing rapidly, which means the pressure on coffee production grows as well. In order to meet this demand, greater areas of forest are being cut down and replaced by monoculture coffee plantations that often use chemical sprays, creating a hostile environment for birds.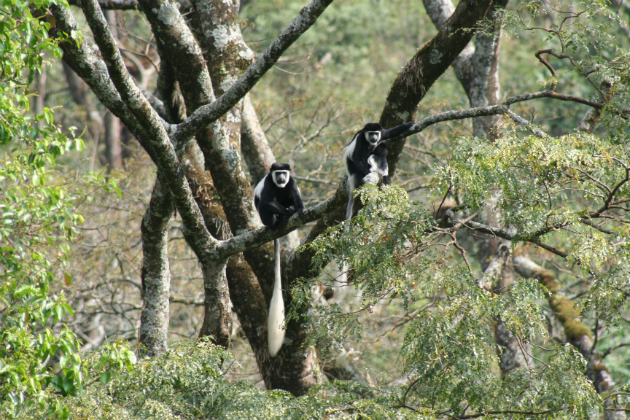 Not just "Bird Friendly" but "Monkey Friendly" as well, even though the farmers are not especially fond of the monkeys.
In 1997, the ornithologists of the Smithsonian Institution decided to support migratory birds by introducing a new certification called "Bird Friendly®". This certified coffee can come only from the ecological farms where all coffee is grown in shade. This traditional way of growing coffee helps the slow ripening of the coffee cherries and creates more interesting and rich flavors of the bean, according to the Smithsonian Institution.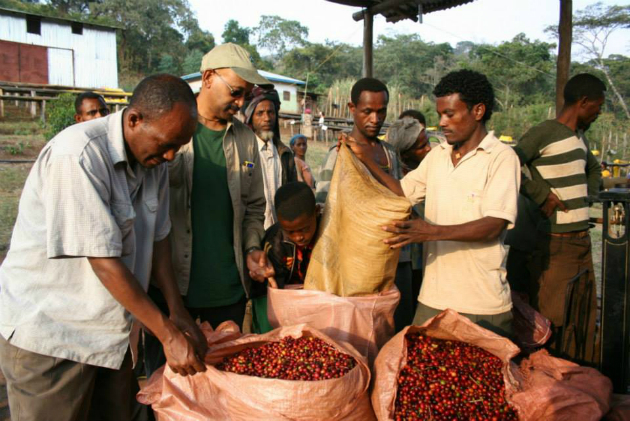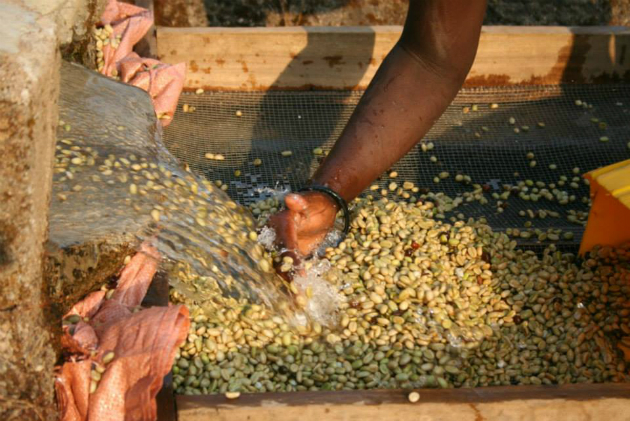 Coffee pickers with the owner of the farm checking the quality of coffee cherries.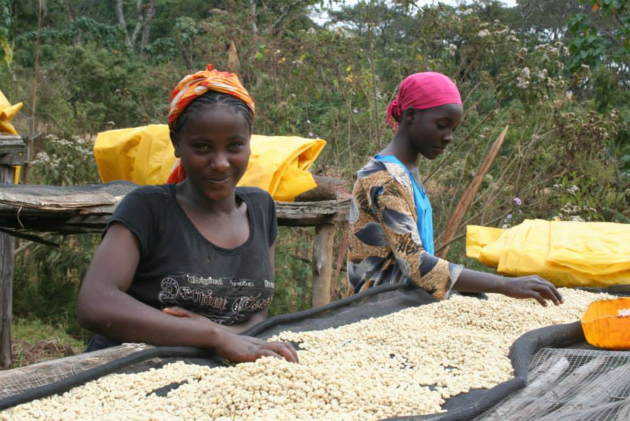 The washed beans are separated from water and spread on beds to be dried.
Surrounding trees are also crucial for protecting from both the burning sun during the day and the cold temperatures during the night. Thanks to the shade, the coffee plants do not require as much water and thus are more resistant to drought. The higher vulnerability of monocultures on the other hand, can be seen by the example of drought in Brazil in Spring 2014, which caused a decline in production, leading to an immediate rise in world coffee price.
Of course, the issue of monoculture agricultural practice is not related only to coffee production, but the example of coffee highlights this issue very well. Migratory birds prove that the issue of conservation of nature ecosystems in tropical areas is not a problem only in the south; the birds that winter in the south play an important role in our own environment. Every time I drink a cup of coffee, I find myself thinking whether or not the beans that made it ripened to the sound of birds chirping. Do you know which bird song is coming out of your cup?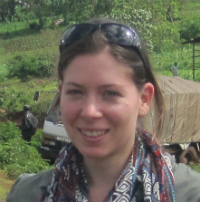 Dana Siedem is the co-founder of BirdSong Coffee that imports and sells forest grown and organic Bird Friendly coffee in the Czech Republic. After her studies at the Czech University of Life Sciences, she lived in Ethiopia in the years 2013 and 2014, where she worked for an international environmental organization. During her stay, she personally visited a number of important coffee-producing regions.

23. 2. 2015 Illustration by Taja Spasskova, Photo by BirdSong Coffee/web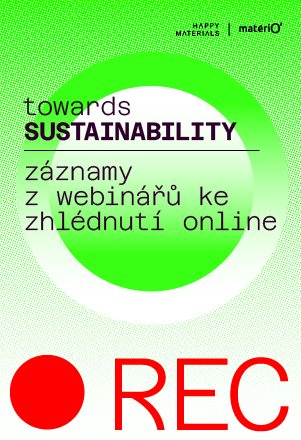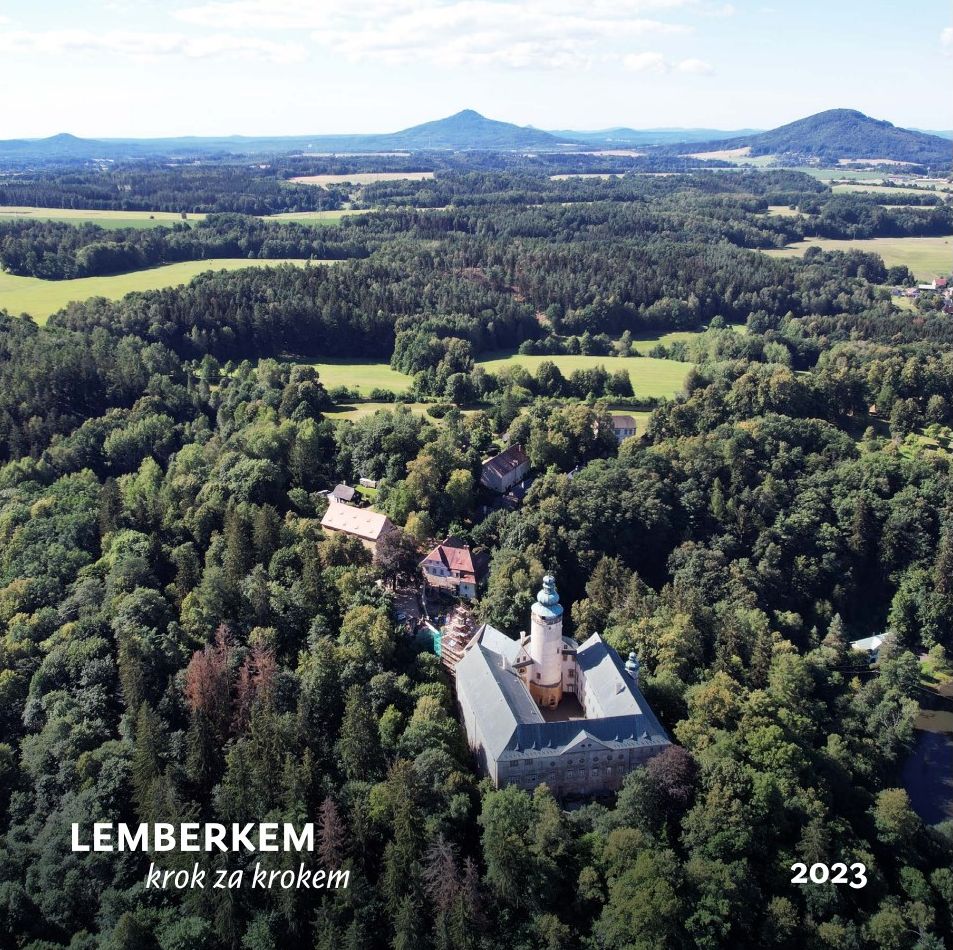 LATEST COMMENTS