Opinion
Ondřej Slówik: The Hut on Fowl's Legs and Artificial Hips Represent a Luxury Amidst the Rice Paddies
Three years ago, I took a creaky old Chinese motorbike to do a linguistic research in the vicinity of a town called Mai Châu located in the mountainous area in northern Vietnam. Coincidentally, I ran across Mr. Minh, his wife Thơ and their family homestay situated in a traditional pillar house.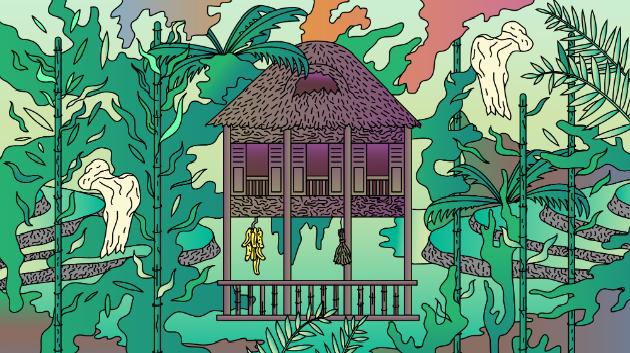 ► českou verzi článku najdete zde
The pillar house was built by Minh's father in the late 1980s amidst rice paddies surrounded by tropical rain forest. The paddies unlike the rain forest still exist and are diligently cultivated. The traditional house constructed using natural materials still seems rather well preserved despite its age. Considering the local conditions, the family business is quite prosperous. Unfortunately, Mr. Minh's hip joints are not as well preserved as his house. The seemingly idyllic life of Minh's family is disturbed by a degenerative disease demanding a hip replacement on both sides. An artificial joint cannot be manufactured from bamboo and it is not a piece of cake to find titanium in a rice field, which renders Minh's situation even more complicated.
In spite of the fact that Minh and Thơ finished merely the compulsory education, which in Vietnam lasts only five years, they realized that farming life would not be able to earn enough for a new hip joint (Minh would not be able to perform most of the farming duties because of the pain anyway). In the end, they decided to provide tourists with an authentic insight into Vietnamese rural life and traditional minority architecture.
Before starting their business, Minh and Thơ had to borrow approximately 10 000 USD, which was an extremely high amount of money since the average monthly salary in the region is about 180 USD. The money was spent on renovation of the house and construction of a kitchen and sanitary facility. Shortly after that they were forced to borrow more money in order to pay for Minh's right hip replacement. A further loan of another 5 thousand USD for the replacement of Minh's left hip would be devastating. Although Vietnam is a socialist country, health insurance is still an unresolved issue; commercial health insurance exists but it is not compulsory and it does not cover costly surgeries like this one.
Minh and Thơ belong to the Thai ethnic minority. Besides the Viet majority, Vietnam is a home to 53 ethnic minorities. The Thai dwell in the mountainous provinces of the northern Vietnam and they are ethnically related to the inhabitants of Thailand. However, they arrived in their Vietnamese habitat almost a thousand year ago hence their cultural development was parallel with and isolated from the region of Thailand. As of today, the Thai minority population in Vietnam amounts to 1.5 million.
Although the Vietnamese government in the past attempted to integrate the minorities into the mainstream society rather forcefully, the Thai people managed to preserve the traditional culture, language and architecture to a great extent. Minh a Thơ are living proofs of that. On weekdays, Minh admittedly replaces the traditional clothes with a cotton shirt and shorts but his wife tends to wear the traditional dress all the time. Family members communicate in Thai and they use Vietnamese mainly in the communication with the outside world, especially when talking to tourist guides accompanying customers staying in their house.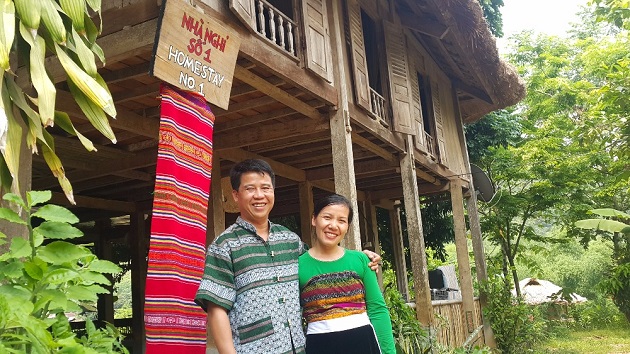 If you ever find yourself in the north Vietnam, do not hesitate and visit the homestay in fowl's legs.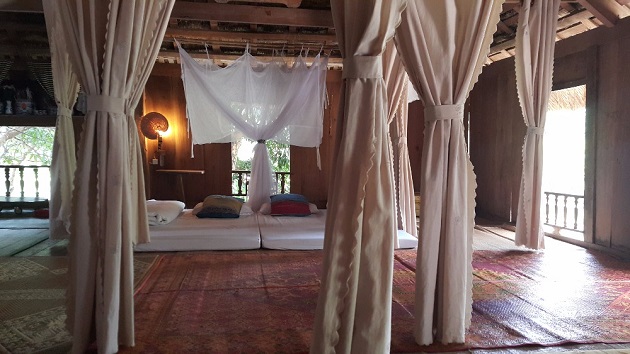 Thai architecture is based on wood, bamboo and dry palm leaves. It can seem primitive at first but let's not be deceived. The Thai skilfully harvest water energy for propelling various bamboo wheels pumping water between rice fields and fish ponds. Rudimentary wooden mallets are still occasionally used for grinding rice for flour. Recently, traditional technologies began to be combined with the modern ones – a structure of bamboo pipes can be equipped with a water turbine producing enough electricity to power a light, a TV or a cell phone battery charger.
Construction of a pillar house brings many advantages. It is possible to build on an uneven ground; the house is protected against floods. In the past, pillar houses also constituted a shelter from wild animals. Moreover, elevated houses provide superb air ventilation which comes handy in the Vietnamese scorching hot summers. One pillar house usually consumes around 30 full-grown logs for the pillars and beams. The trimming is used for the roof frame, flooring and panelling. Originally, no nails or screws should be used but the modern lazy times gave way to them in the end.
Roof is covered by layers of rice straw or dried palm leaves. These roof covering materials are natural and constitute good rain protection but they have to be replaced regularly every five years. New houses therefore tend to be equipped with asbestos cement roofing or corrugated iron. Such materials, however, represent a heavy ecological burden and, moreover, their insulation features are very poor, which leads to unbearably high temperatures inside the house.
The Thai people used to build houses using timber from the surrounding rain forests – timber was plentiful and so the expenses were minimal. Unfortunately, the rain forests retreated far from the villages, which means that people have to go far away if they want good quality timber. Furthermore, they have to request a permit to fell the trees and they also have to pay for all of it. It results in a paradoxical situation that bricks, a luxurious material from the past, are now cheaper than timber and building a traditional wooden house turns out to be more expensive than construction of a brick house.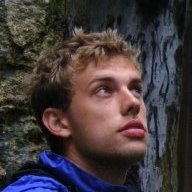 During his studies at the Faculty of Arts, Charles University in Prague, Ondřej Slówik spent two academic years at the University of Hanoi in 2011 and 2013 where he had the opportunity to get acquainted with the local culture and language. He graduated from Vietnamese and English studies and now he is finishing his PhD. at the Department of Phonetics. He decided to help Minh acquire the artificial hip joint because he is convinced that even small deeds can positively influence the world to become a better place. Therefore, he decided to organize a charity fundraiser.
Cover illustration: Barbora Tögel, photo by author
21. 7. 2016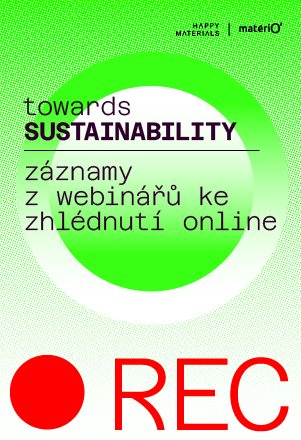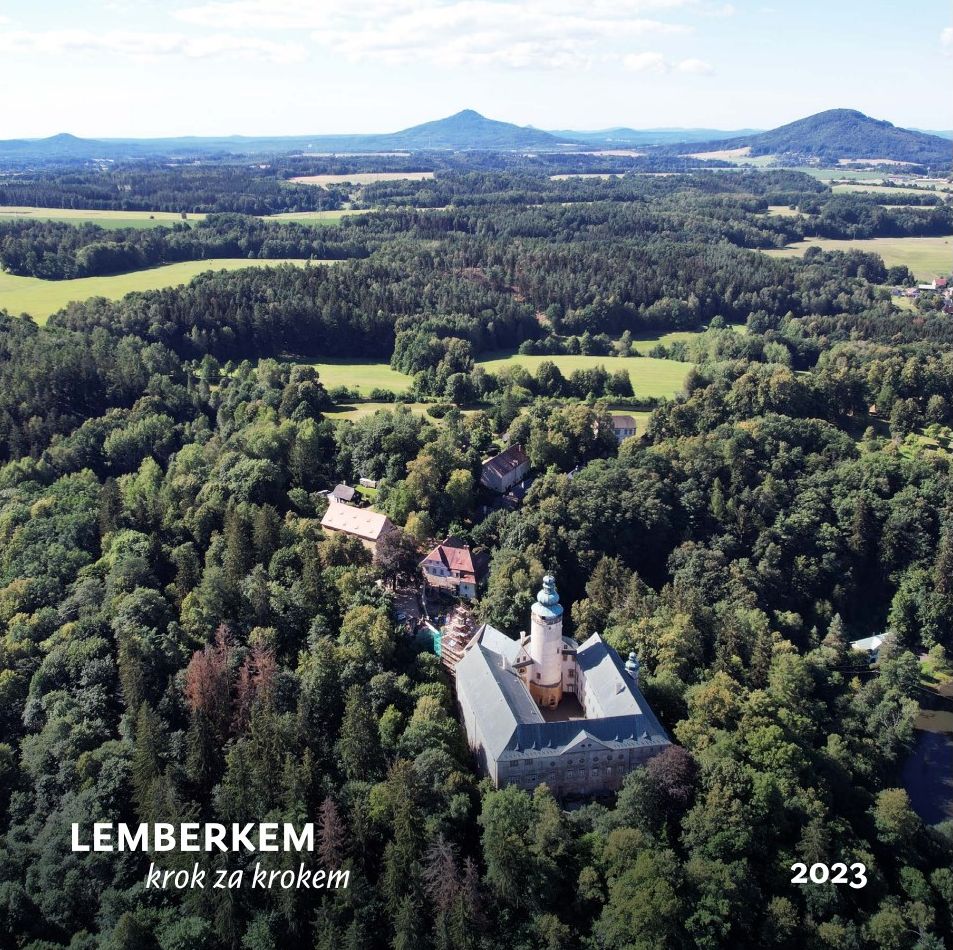 LATEST COMMENTS