Focus
Glass artist Zuzana Kubelková, Sui generis
"Everything has its limits," says glass artist Zuzana Kubelková. Her Sui generis series of glass art objects demonstrates how industrially produced fire-resistant textiles can be melted down and turned into fragile artworks.
Czech glass is a name unto itself, and many notable glass artists have served as pioneers of its potential. Which means that it is far from easy for a contemporary glass artist to blaze a truly unique path. But Zuzana Kubelková is doing just that. She approaches this material with curiosity, an adventurous spirit, and without fear. "There are still methods that push things out a little farther, or in one direction or another – it's just a matter of finding them," says Kubelková.
The artist treats glass as a medium. Indeed, her works can even be dominated by entirely different materials. For example, in the work My Chemical Romance she placed some crystallizing and dissolving sodium acetate front and centre. The work led to Kubelková winning the prestigious YOUNG GLASS 2017 competition, held only once a decade by the Glasmuseet Ebeltoft in Denmark. During her studies, Kubelková also combined glass with dripping glue, enriched via a custom-made recipe, and also produced her own vitriol (sulphates) and alum compounds.
During the past two years Kubelková has devoted her energies to glass and mineral textiles. Industrial fabrics, normally used for the likes of insulation, protective clothing, reinforcing concrete, and composite materials for aviation, have been melted down by the artist and transformed into fragile containers. The final works evoke a sense of crystallising or of organically emerging out of the natural world. "I sought to transform industrial materials into live and organic shapes," explains Kubelková. "It is inherently difficult to predict with such materials how they will be transformed during the melting process, and that makes it all the more exciting."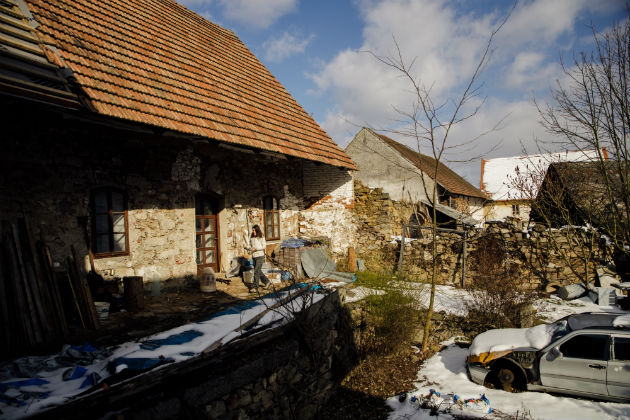 At least half of Kubelková's family farm in her southern Bohemian home village of Smiradice, not far from the town of Strakonice, is taken up by former cowsheds with arched ceilings. Many of these spaces have been transformed into workshops featuring the kilns used to melt and repurpose materials of choice. Kubelková gained her education in glassmaking at the High School of Applied Arts for Glassmaking in Železný Brod, from where she graduated in the field of Modelling Pressed Glass; subsequently, she continued with her higher education at the Ilja Bílek studio at Jan Evangelista Purkyně University in Ústí nad Labem (UJEP).
For Zuzana Kubelková, the process usually begins with an idea followed by a design sketch. This is then used as the basis for the creation of a specific work. A plaster cast is created, onto which fibreglass fabric is layered. This is then itself covered over with a fire-resistant wool material. The glass fibres inside soften as they are heated in the kiln, and are kept in place by the layer of fire-resistant wool material. Work with fire-resistant wool requires Kubelková to wear a protective respirator. "Sibral (thermal mineral wool) exudes a lot of dust particles, and when you inhale it your lungs feel it for the next three days." Surprisingly, gloves are not used: "When modelling a work of art, wearing gloves would deprive me of sensation in my hands. But I do use gloves when cutting harder pieces of textile from a roll, as otherwise it would be easy to cut myself."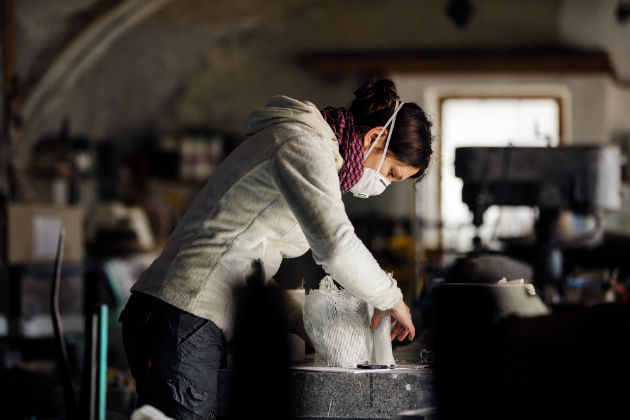 The artist's first successful artwork made from melted fibreglass was preceded by dozens of experimental efforts. These enabled Kubelková to explore the behaviour of specific weavings and weights of this material. She also discovered that such textiles need to be layered gradually, meaning that the containers she makes must be subjected to heat multiple times. "By its nature, glass textiles are significant insulators. Which means that a thick layer would not heat through and melt down properly."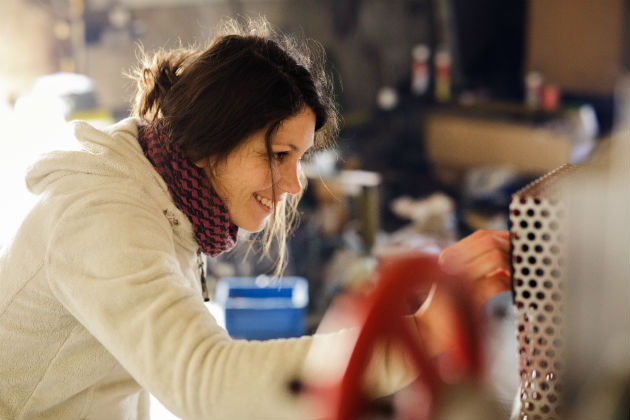 Zuzana Kubelková makes a point of understanding the nature of every textile with which she works. And that means knowing how much fabric to layer before heating, and how to set the precise glass melting curve so as to prevent the material in question from completely melting, but rather transforming into a desired inorganic lace. And information regarding the temperature at which a particular fibreglass material was originally created, as well as its softening and melting points, is crucial for subsequent repurposing. But consideration must also be given to factors such as textile coarseness, which impacts heat distribution in fabrics – and thus the speed at which the finished artwork can be heated in the oven.
In this manner, her artworks are modelled and formed. After that they are heated in a kiln with the appropriate heat settings to ensure correct melting.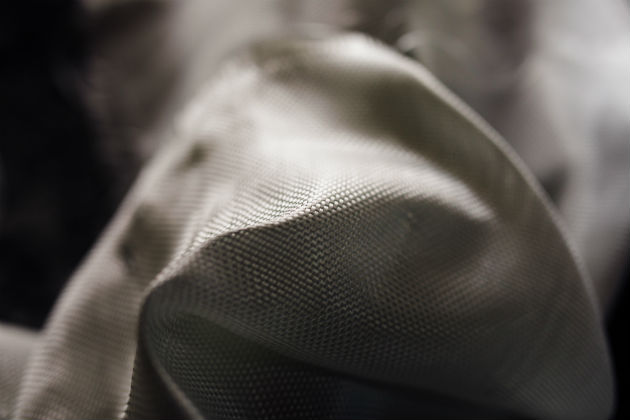 Zuzana Kubelková mostly works with white fibreglass, which, thanks to its slight iron content carries a hint of a green tint. Another favourite is a dark green basalt gauze. This comes pre-impregnated with resin, meaning that during firing Kubelková keeps an extra distance from the kiln. The kiln vent, which channels away fumes, creates a thick smoke – alas, another by-product of experimenting with such industrial materials. "One needs to be aware of what to melt and what not to melt," cautions Kubelková.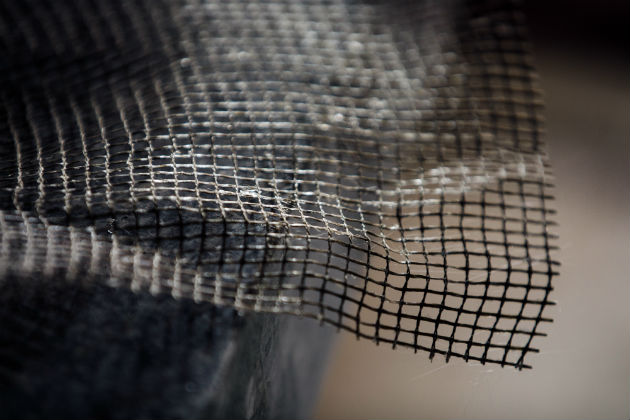 The artist's containers and vases are able to boast varied surfaces thanks to an interplay between the density and weaving of the melted fabrics. Around ten types of industrial fabric weaves have been thoroughly tested by Kubelková, spanning gauze and canvas, all the way to twill. Sometimes these are combined – but only when concerning materials made from the same kind of glass. This is because glass is highly sensitive to thermal expansion. Only glasses with the same thermal dilatation characteristics can be combined through firing. The same applies to combining glass and basalt fabrics.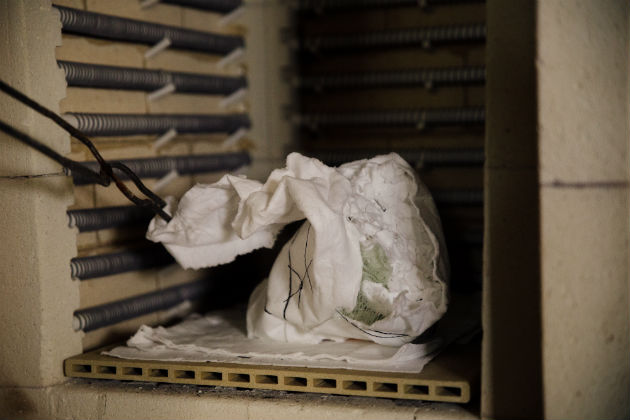 Once the firing process is completed, this is followed by one of the most laborious tasks of the entire process, namely the removal of the heat-resistant wool enveloping the work, and washing out the last remaining bits of plaster from the fragile fibrous structure of the newly-emerged art object containers.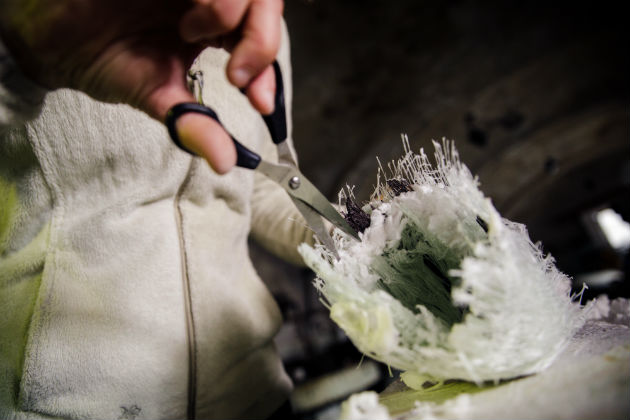 "I tend to work with textiles more as a sculptor than as someone involved with fabrics," explains Kubelková. Indeed, during their work textile designers might break down into threads, interweave, tear, macramé, unravel, and re-weave. But Zuzana Kubelková layers, builds, moulds, interlaces into plaits; or she simply leaves filaments standing in the hatching style of a light, bristly line drawing. In the wake of her Sui generis series, first displayed to the public at an eponymous exhibition at Prague's Galerie Kuzebauch, Kubelková's intention is to further develop her relationship towards artistic materials.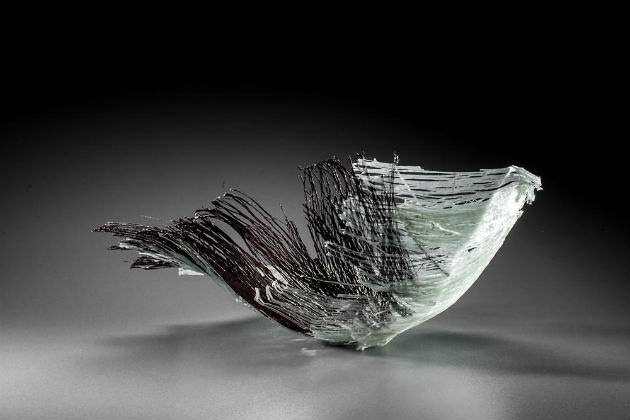 In today's restless times, it is certainly welcome to see an artist maintaining a distinctive and visible thread of continuity in her work. Zuzana Kubelková patiently explores and methodically studies the various mysteries and intrigues of the techniques which she embraces. Nor does she head for the exit when she hits a bump in the road. This approach has gained Kubelková a growing army of fans. A degree of uncertainty is something Kubelková understands is an inherent part of her work. "I can't master absolutely every technique. In many ways both natural and industrially produced materials will behave a certain way no matter what." Despite such limitations, Kubelková's insatiable appetite for taking fresh risks remains the defining feature of her work.
Text: Barbora Tydlitátová, Translated by: Dominik Jůn
Photo: Tomáš Princ, Studio artwork photography: Gabriel Urbánek
17. 10. 2018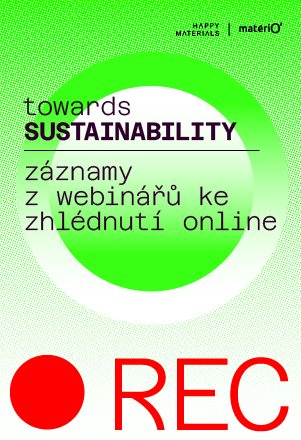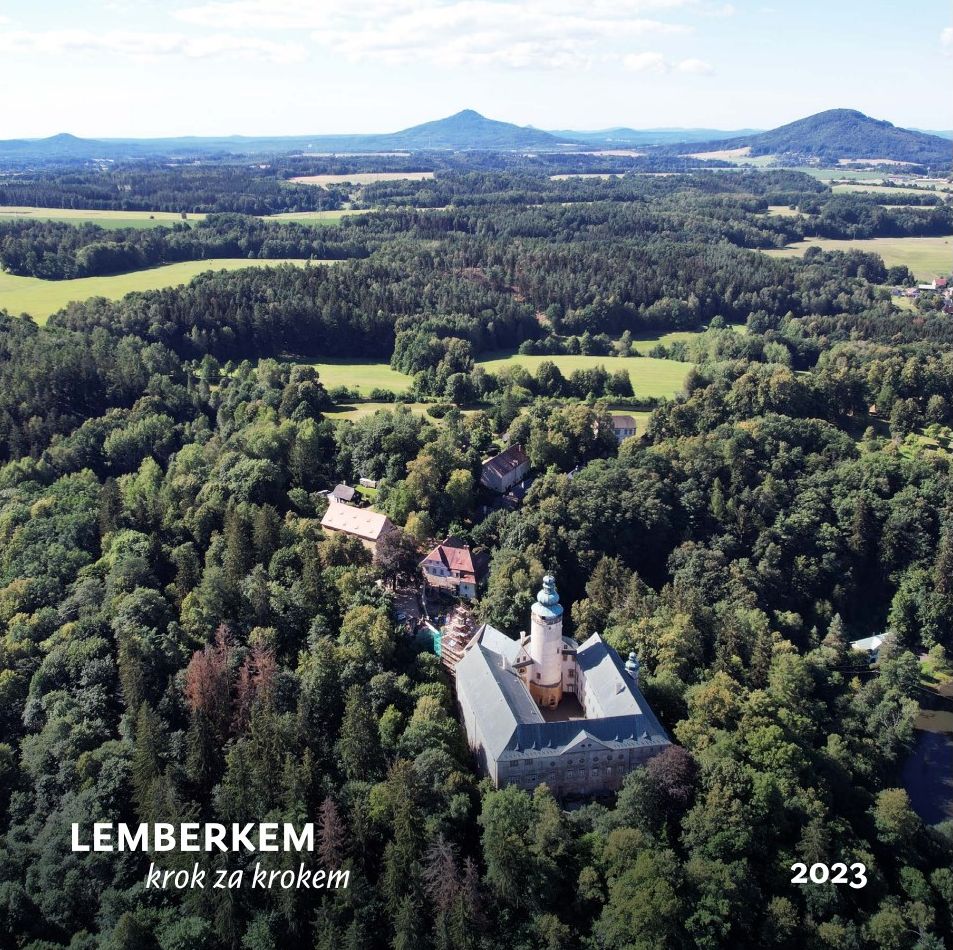 LATEST COMMENTS