Our Focus
Glassmaker Zuzana Kubelková cooks up international success in her magic pot
Announced once every ten years by the Glass Museum in Ebeltoft, YOUNG GLASS 2017 is a prestigious competition with international attendance. This year four Czechs, two men and two women, were among the finalists – Tadeáš Podracký, Pavel Skrott, Zdeňka Fusková and Zuzana Kubelková. What brought Zuzana Kubelková to Denmark was her work My Chemical Romance, winning her the grand prize in the competition – in addition to a monetary prize, she will also have a solo exhibition in the Danish port town of Ebeltoft in two years' time.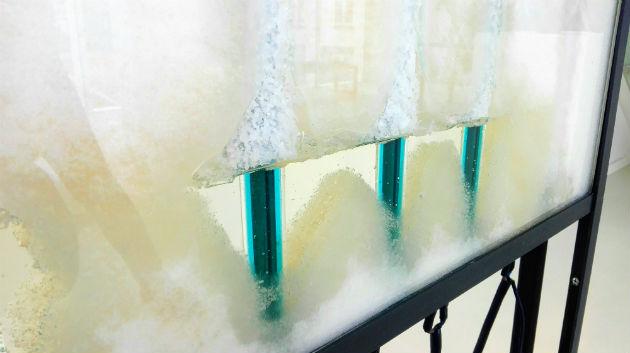 "It's not a static object that loses its originality over time. There's always something going on, there's tension in it, when you look at it you can find new crystals, it can relax you, warm you up," says the author, describing the winning piece. Kubelková developed a distinctive and broad approach to glass at the glass studio led by Ilja Bílek at the Faculty of Art and Design at Jan Evangelista Purkyně University in Ústí nad Labem. Kubelková graduated from this Czech university in 2014 and Bílek left the glass studio this year. Another of the finalists, Slovak artist Luba Bakičová, also studied under Bílek – she exhibited a sculpture entitled Yellow Way in Ebeltoft.
Kubelková has also won points in the past for her experimental approach to her work in the area of freestyle art. She was awarded the Dean's Prize for her graduation project My Chemical Romance at the Faculty of Art and Design at university in 2014. The same year she ranked third in the Stanislav Libensky Award competition. And now there's her success this year at the competition in Ebeltoft. The work behind this year's success conjures up alchemistic intoxication by the properties of matter and the various ways in which it can be transformed. "In freestyle art you give of yourself," says the award-winning artist, adding that she is trying to find new approaches to glass, new ways of working with it and combining it with other materials.
She studied at the High School of Applied Arts for Glassmaking in Železný Brod in North Bohemia. The last time she took actual chemistry lessons was in primary school, and even back then she enjoyed the lessons during which she could carry out experiments. And right now she is continuing to experiment in her studio in Strakonice in South Bohemia where she has a kiln, a cutting shop and a painting shop. Then there's this impulse, an idea. "Yeah, that could be good." And she gets down to work. She resists stagnation, looking for new territories, new approaches and connections in glassmaking.
Continuous change emerging from a solid foundation. What is inside and what is outside? Penetration, dripping, crystallisation
The work that received an award from an international jury, My Chemical Romance, is now on exhibition at the glass museum in Ebeltoft. It has a metal frame which houses an aquarium filled with sodium acetate. Inside there are also Simax tubes filled with fridex coolant. Each glass tube has its own relay and heater. The whole 'romance' is five centimetres' thick; its walls are made of five-millimetre sheet glass. Behind the glass is an ever-changing, three-dimensional image. "It's like a fish tank. You can see the fridex quivering in the tubes. And those who stay looking at it for more than a few minutes can see how the sodium acetate crystals have changed."
Before she started on this work, she carried out other material-related experiments. "Two years beforehand I experimented with Herkules glue and borax." At that time her fascination with the variability and the outstanding nature of matter culminated in a series of works entitled Materia Alba – Kubelková created them for Gallery "N", located in the North Bohemian town of Jablonec. More precisely – she allowed the series to rely on gravity to find its shape in the gallery space. She formulated the subject, mixed the mixture, prepared the space, it dripped and gradually solidified directly in the exhibition space.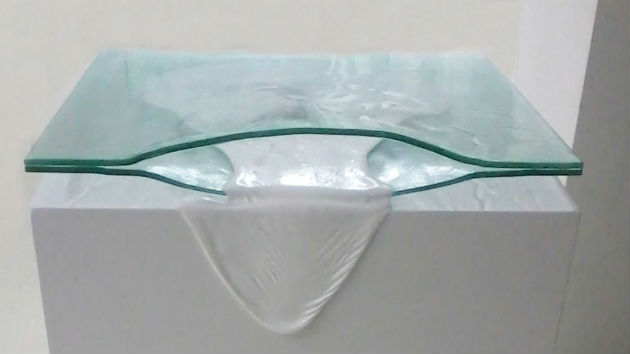 Detail of one of the works in the Materia Alba series. "I demonstrated the notion that no house or flat is (or should be) an air-tight sealed "can" – although nowadays, with their modern plastic windows and thermal insulation systems, many spaces are very close to becoming just that." (photo by Zuzana Kubelková)
Defining shape and finding the suitable mixture was also explored by Kubelková during her work on Livor Crystallus. In this case she worked with sulphate and alum. The theme was parasitic relationships – of matter which we usually describe as inanimate, of particles whose properties we usually don't concern ourselves with in any detail. What unfolded was a duel between amorphous glass and crystallised substances. The parasite grows and spreads on the glass. She marks out its path using glass forms into which it falls. They are both at the mercy of processes that are governed by the laws of planetary motion. "I can't control absolutely everything. Nature will, to a certain extent, do what it wants."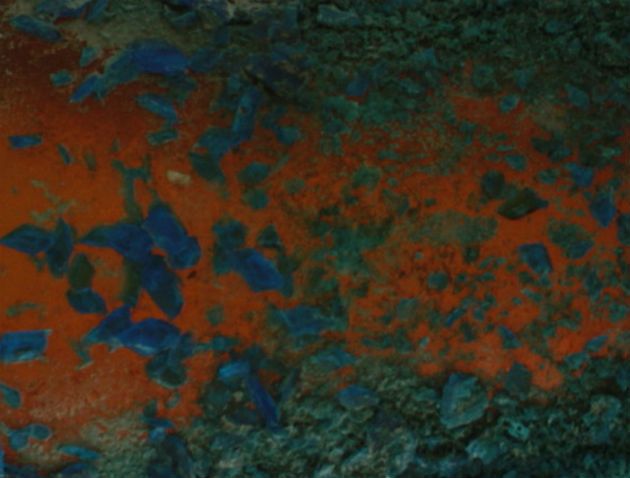 Livor Crystallus – the crystals surprise us with their variety of shapes, colours and sizes; it is possible to grow crystals of different colours and shapes – from minute inconspicuous geodes with transparent needles or rods to large trapezoid shapes boasting strong saturated colours (photo by Zuzana Kubelková)
After a while she started to tire of sulphate. "It fragments over time." But she wanted to stay with crystals; she started to look for a different material to work with and that's how My Chemical Romance came into being. "As a sportswoman I'm familiar with thermo pouches filled with sodium acetate," says Kubelková, revealing to some extent the beginnings of her chemical romance. These bags are used by sportspeople and tourists when they need to warm up – when sodium acetate crystallises, it heats up.
This substance is also widely used in the food industry, for instance, to disinfect the guts of animals. However, Kubelková was particularly interested in its structure and its ability to respond in a relatively flexible and interminable manner to changing conditions. "I tried to melt it. I was interested in how it would respond to this," she says, recalling her first experiments. She started with one bag. After that she ordered an additional seven. She has already used up ninety kilograms, with the remaining one hundred kilograms in her studio still waiting to be used. Although My Chemical Romance has a feel of the ethereal about it, it is some job to carry the sodium acetate. Indeed she crammed thirty kilograms of it into the aquarium, as the author herself likes to call the glass object in jest.
Kubelková constructed the first two Romance works for an exhibition of graduation projects at the Faculty of Art and Design at university. One of them cracked during the exhibition, the second at an exhibition of the finalists for the Stanislav Libenský Award. The work that is now undergoing metamorphosis in Denmark was newly created by Kubelková. "I made the thing again, this time it's better. I could have thought it through better." She used stronger sheet glass and replaced the water that she had heated in the tubes with fridex coolant. "Nevertheless, every time I make it, I'm worried sick that something will go wrong," she says, laughing. However, visitors to the exhibition find her piece rather relaxing. She refers to it herself as having a meditative feel to it. "People like to observe it."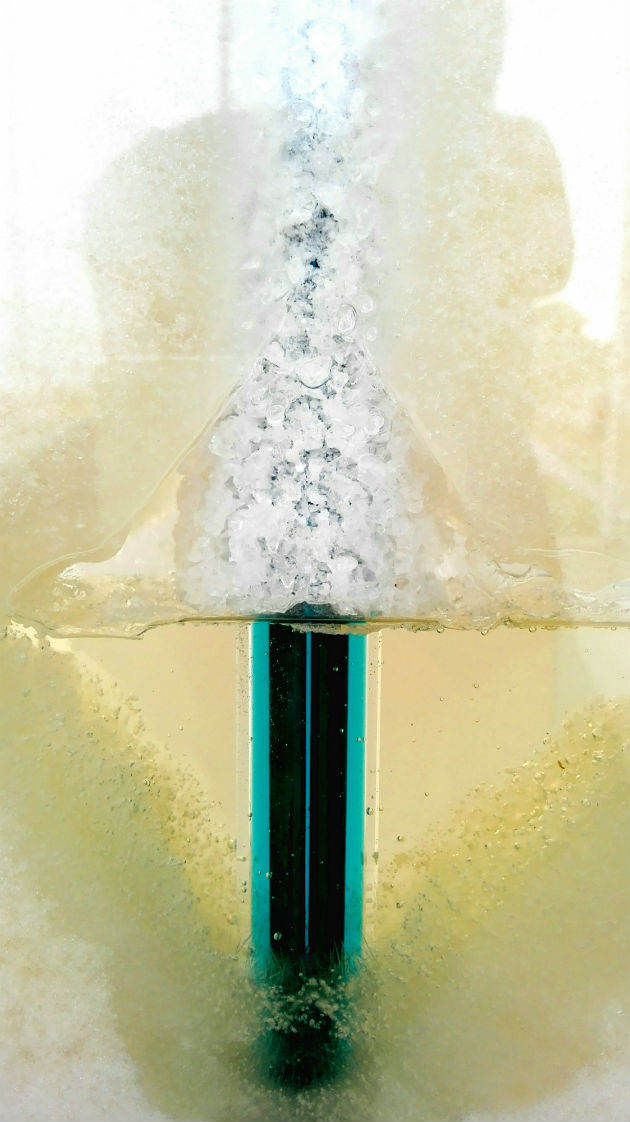 Zuzana Kubelková improved the latest version of My Chemical Romance using Fridex coolant, i.e., ethylene glycol (a blue liquid in tubes). Sodium acetate (yellowish liquid and white matter) reacts to changes in the temperature around it. (photo by Zuzana Kubelková)
During her work on My Chemical Romance, Kubelková learned, for example, how to program and connect Arduino, a small single-board computer, usually used in prototype design. In the case of My Chemical Romance, its job was to switch on the individual electrical circuits that control the heating up of the liquid. "It depends on how I program them." Arduino sends instructions, the circuit is switched on, the liquid is heated up in the tube, heat is emitted, the sodium acetate melts and liquefies, becomes almost transparent, yellowish. The area around it starts to warm up; the aquarium is hot and becomes a small radiator. The museum is closed at night, the installation is disconnected and the aquarium gradually cools down, the sodium acetate crystallises and solidifies. Crystal balls appear around the tubing, the structure of sodium acetate, long needles, appear in the matter. A new day dawns and, with it, the cycle continues.
Not all of Zuzana Kubelková's experiments have come to a successful end. For a while now there has been a shoe box full of chemicals lying in her studio which is supposed to be used to make a so-called stormy glass. So far Kubelková hasn't succeeded in finding the right mix; if she goes back to this box, we can look forward to jewellery that will help us predict the weather.
Glass in the hands of the future generation
Both the fact that a Czech artist was awarded first prize, and also that the other fifty-six finalists were all under thirty-five, demonstrates the ambition of the Young Glass competition to reflect what the new young generation of glass artists are all about. The first year of the competition took place in 1987, one year after the Glasmuseet Ebeltoft glass museum opened.
Some 326 artists entered the fourth year of the competition, with almost one-fifth of them shortlisted for the final. Of the finalists, seven artists received awards, with the winners receiving prize money of 42,000 euro between them and two artist-in-residence stays. Another Czech artist was among the winners – Pavel Skrott, a graduate of the Academy of Arts, Architecture and Design in Prague. He received his award at the competition for two of his videos – his graphic horror Glass …#1 and the meditative Glass…#2. "The videos came about as a visualisation of the huge differences in our perception of glass – in the sphere of art on one hand, and in everyday life on the other. While we allow ourselves to be captivated by glass as an art object, we barely notice it in everyday life and usually ignore it, overlook it, or look through it ... a window or glasses," explains Pavel Skrott. He was awarded the Sybren Valkema Prize for his work with glass in the area of video art – a two-week internship in Bali. "I've no idea yet how I'll make use of it; I'm curious about this myself. It'll simply be an adventure, both an artistic adventure and a life adventure," he adds.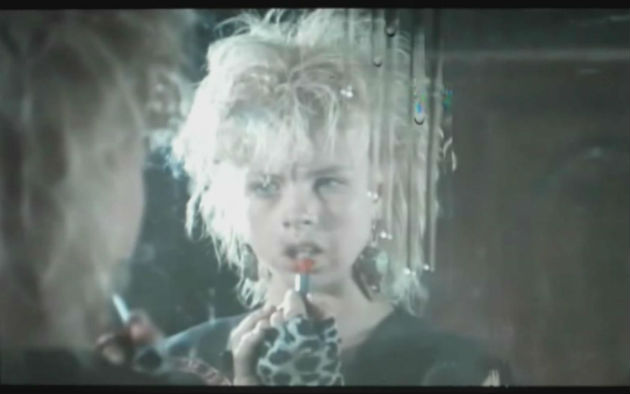 A shot from part one of the award-winning video-diptych Glass .... by Pavel Skrott. "Glass... #1 explores glass as a cultural phenomenon, combining recurring motifs from world cinematography. The resulting video-essay collage is then shot over and over again and discreetly tweaked on the glass TV screen. Glass... #2, on the other hand, searches for ordinary everyday moments when glass reveals its presence between the viewer and the image he or she is looking at," says the author, explaining his work. (photo by Pavel Skrott)
The jury was made up of representatives of the institutions involved in the organisation of the competition. This year's works were adjudicated by Susan Warner, Maja Heuer, Sandra Blach, Dan Mølgaard and Jeffrey Sarmiento. "The exhibition and the competition have a large international dimension; the members of the jury have all made a name for themselves on the world stage," adds Kubelková. Director of the Museum, Dan Mølgaard, characterises Young Glass as a sonar used in the ocean of glassmaking to detect what's new in the area of 'freestyle art'. In the exhibition catalogue he writes of the current possibilities for liberating glass, for releasing it from the category of "material".
The fourth year of the completion and the choice made by the jury has shown that the area in which the artists' work really is beyond imagination. In the case of Kubelková, the jury commended her emphasis on the process, highlighting the metaphorical significance of the installation. According to the jury, My Chemical Romance can also be perceived through the prism of social issues, since they too go through cycles of catalysis, reaction and renewal. As for Skrott, the jury praised his ability to combine video art and glass – a trend which is at the beginning of its development. Other award-winners were Dán Bjørn Friborg, Carina Cecilia Cheung, a native of Hong Kong, living and working in the US, Japanese artist Rui Sasaki and British artists Erin Dickson and Kathryn Wightman.

In her 2016 work entitled Loss, Kathryn Wightman demonstrated the refined use of glass powders (photo by Kathryn Wightman)
This young generation of authors bring glass into the most diverse of formats and processing techniques imaginable, combining technology and various angles of perception in unusual ways. There is space here for melted-glass sculpture, painted glass, performance art and video art. "There were lots of interesting things at the exhibition, ideas, tiny items – all completed in great detail. For instance, Carina Cheung, using a decorative figure-making technique, made a light from hundreds of glass wheat stems and a "beard". I also thought that Kathryn Wightman's tapestry made of coloured powders and her foamed glass vases were fantastic," says Zuzana Kubelková, thinking back on the works. "It was all about freestyle art, there was nothing from the world of design there," she explains.
Kubelková also describes the atmosphere that was there throughout the competition from the preparation stage to the opening speech: "During the installation the museum director was walking around the museum in overalls, museum staff installed the exhibits themselves, were accommodating in every way, were friendly and always came up with immediate solutions to everything. About thirty people, including myself, travelled to the museum to install their exhibits themselves. A party was held after the opening and the award ceremony where we all drank, ate and danced."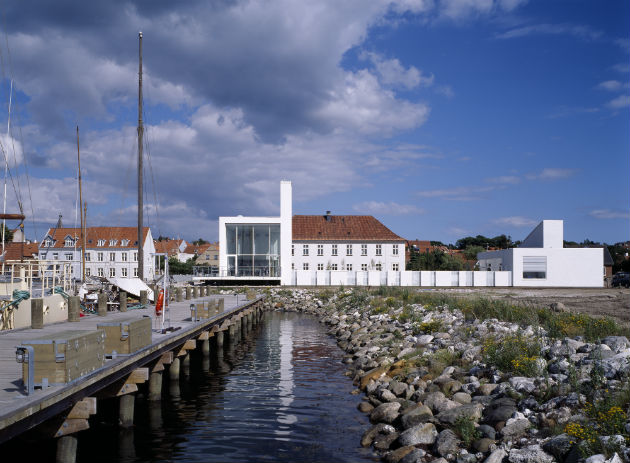 Glasmuseet Ebeltoft presents itself as an institution that focuses on contemporary creations by glass artists. Visitors can find almost forty works by Czech authors at the museum (museum photo archive)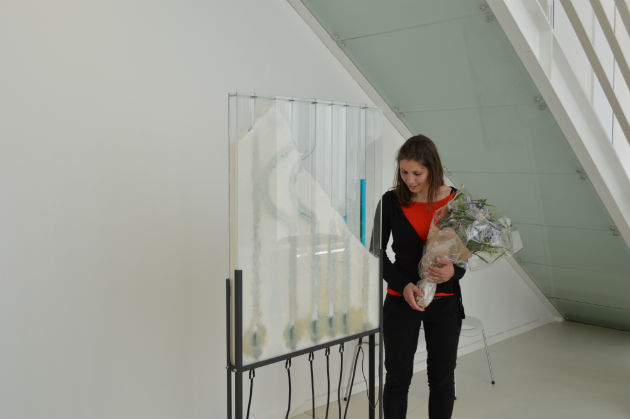 Zuzana Kubelková with My Chemical Romance in Ebeltoft
The Young Glass 2017 exhibition will take place from 10 June to 29 October in the Danish town of Ebeltoft. After that the exhibits will be moved to The Glass Factory in Sweden where they can be seen until March of next year. Finally the travelling exhibition will complete its journey at The National Glass Centre in Sunderland in October 2018. According to Kubelková, this is also the final stop for My Chemical Romance; in fact, she is currently working on different experiments. It was my graduation project and it has already won three awards. At this stage I'm a little frightened by it," she says with a smile. "I feel obliged to do some quality work again" she adds, saying that she plans on working in Strakonice over the summer.
"I now melt industrially-produced glass fabrics that are normally used as coupling agents in different materials. I re-melt and combine them with melted glass and basalt fabrics," she says, revealing one of her latest creative plans. She has two exhibitions in Prague this autumn – the first in the Dancing House and the second in Galerie Kuzebauch. She will exhibit melted-glass masks made of glass textiles on the banks of the River Vltava. For the time being the exhibition in Prague 6 will remain shrouded in production secrecy.
8. 8. 2017 Text: Tereza Lišková, introductory photo by Zuzana Kubelková, translated by Lorraine Traynor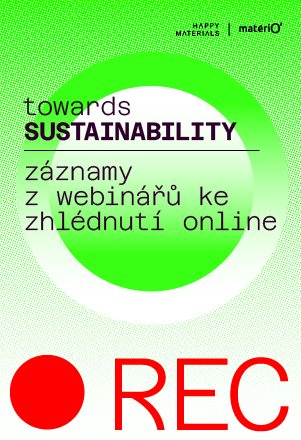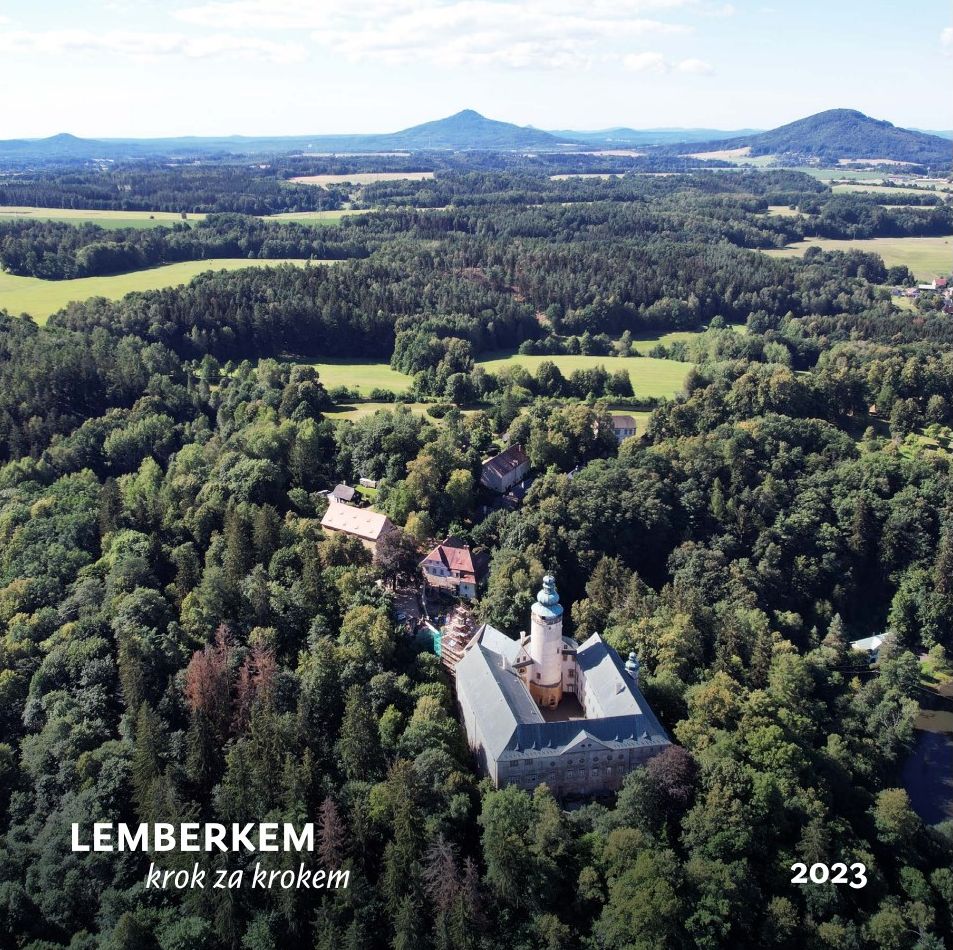 LATEST COMMENTS