We notice
Textile experiments involving a water flea, resin, and several kilos of salt
"Are you wearing anything made of wood? I bet you that at least half you are," says Jitka Škopová to start her exhibition pointing out the origin of viscose threads. Lenka is the head of the Textile studio at UMPRUM. Her students are currently exhibiting results of their tour beyond the ordinary perception of textiles. They had experimented with squash, salt, resin, and concrete, drew inspiration from wood with all its irregularities, and the evolution benefits of water fleas. The Experimental Textile exhibition has been on show in the Prague´s Gallery Kuzebauch since 28th June and will end on 28th August.


► českou verzi článku najdete zde
By her opening words, Jitka Škopová illustrates the fact that the world of textile is loaded with multi-layered and often unexpected relations. She asks her students to be aware of every detail of their surroundings, try new approaches and methods, take an alternative view of materials and search for unexpected and alternative approach to materials and technology. "If we need what is offered to us by nature, let´s take it with thought, let´s use it without necessarily exploiting it," asks Jitka Škopová of her students.
"Unlike students, manufacturing companies lack time and capacity to explore and experiment," says the head of the textile studio. Lucie Havlová, a co-founder of matériO Prague, a material library, also highlights the significance of experiments and experimenting: "Even though deviations from standard approaches sometimes lead us to a dead end, students can free their creativity and invention, learn from their mistakes, and draw inspiration for their future work."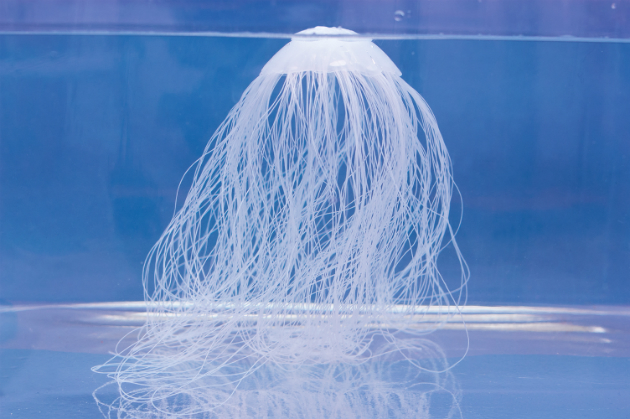 "Vodní blecha" - Water flea (Photo: Miroslava Vokonounová)
Instead of designing patterns for fabrics, students embark on exploring new worlds, sometimes waters. A crustacean armed with body threads inspired Miroslava Vokounová to create an object based on PLA threads (biodegradable biopolymer). In stale waters, weed and dirt often stick to solid surface. A crustacean commonly referred to as a water flea can accommodate quickly to dirt and pollution and can survive even in very dirty water. Vokounová simulates her survival technique with the help of threads, which catch the dirt. The dirty threads are easy to remove from the solid base of the object and end up on compost where they decompose. The base is then completed with new threads. Yet another advantage of this object and its solution is that the threads used do not tangle in the water.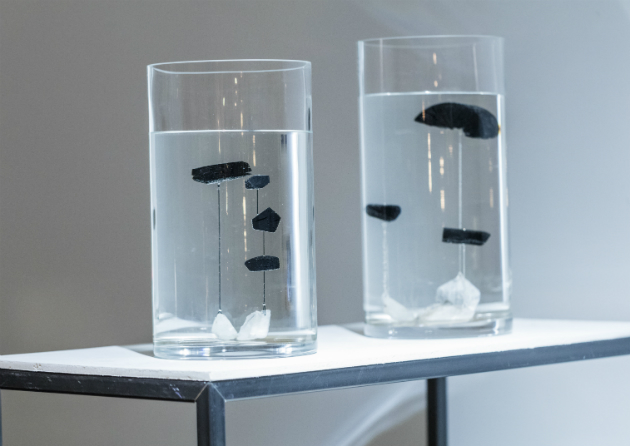 "Coalit" (Photo: Peter Fabo)
A project called Coalit offers yet another approach to water cleaning. It derives from a principle of purifying water with the help of coal made from the Japanese oak, a method commonly used in Asia. Amálie Koppová sought a localised solution replacing the exotic wood with a local material. Cherry tree wood is hard and the coal gained from this type of wood remains intact. The designer used an antibacterial silver thread with Moravian crystal to connect the individual pieces of coal. The thread also keeps the light pieces of coal in the container so that it does not sink in the glass when pouring.
Wood destroying fungi can decompose wood to dust. They can make big holes in the tree trunks. In the project of Eliška Hlavačková, this irregularity becomes a natural form for shaping other materials. "Designers pay fortune for moulds," says Jitka Škopová. "Wood invaded by fungi is used for heating," she highlights the alternative use of such wood. Hlavačková developed this idea in several ways – the holes made by fungi became a mould for blown vases. The hot melted glass burnt the wood upon every use and the hole, and therefore the resulting vases, kept getting bigger and bigger.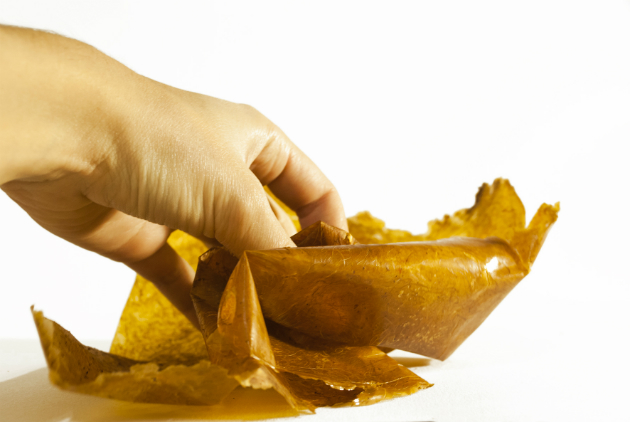 "Dýně" - Squash (Photo: Eliška Hlavačková)
Eliška Hlavačková challenged yet another natural product – a squash. American Indians used emptied and dried mould resistant squash to store flour and other cereals. By pressing and drying the seeds and flesh from inside the squash, we can make biodegradable sheets, from transparent ones to layered and hard ones, which are characteristic for their durability and hardness. The squash flesh can be poured into moulds, dried and subsequently used to make various 3D objects.
"Smůla" - Sap (Photo: Alžběta Hnízdilová)
Alžběta Hnízdilová combined textile and resin. Kateřina Haderková worked with pressed blossoms of hydrangea, Pavla Nosková mixed various natural materials with peat. Kristína Dúhová decorated clothing with crystallised salt and tried to catch the beauty of salt crystals in silicon and other materials which serve as appliqué on fashion. Ondřej Trnka poured concrete and ropes into moulds and when the concrete hardened, he burnt the ropes. The resulting holes can be used variably, for example to plant greenery. Alžběta Prouzová developed shapes of plane tree bark and combined them with felt to bring out the contrast of light and shade. Lucie Miklóšová created original paper weights from nut shells.
"Few people can work efficiently without a clear objective and results. For some students, experimenting was verging on their maximum potential and I very much appreciate their effort and positive approach to this exercise," said Jitka Škopová at the exhibition opening to thank her students for their work. Textile experiments will be exhibited this year also in London, Lvov, and the Chungnam National University in Daejeon, Korea. In autumn, the Textile Studio has planned to participate at a joint project with matériO Prague at the Designblok 2016 – a Czech-Dutch material dialog.

Text: Kateřina Zvelebilová, Cover photo: Eliška Hlavačková
21. 7. 2016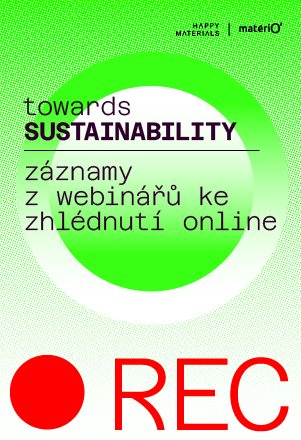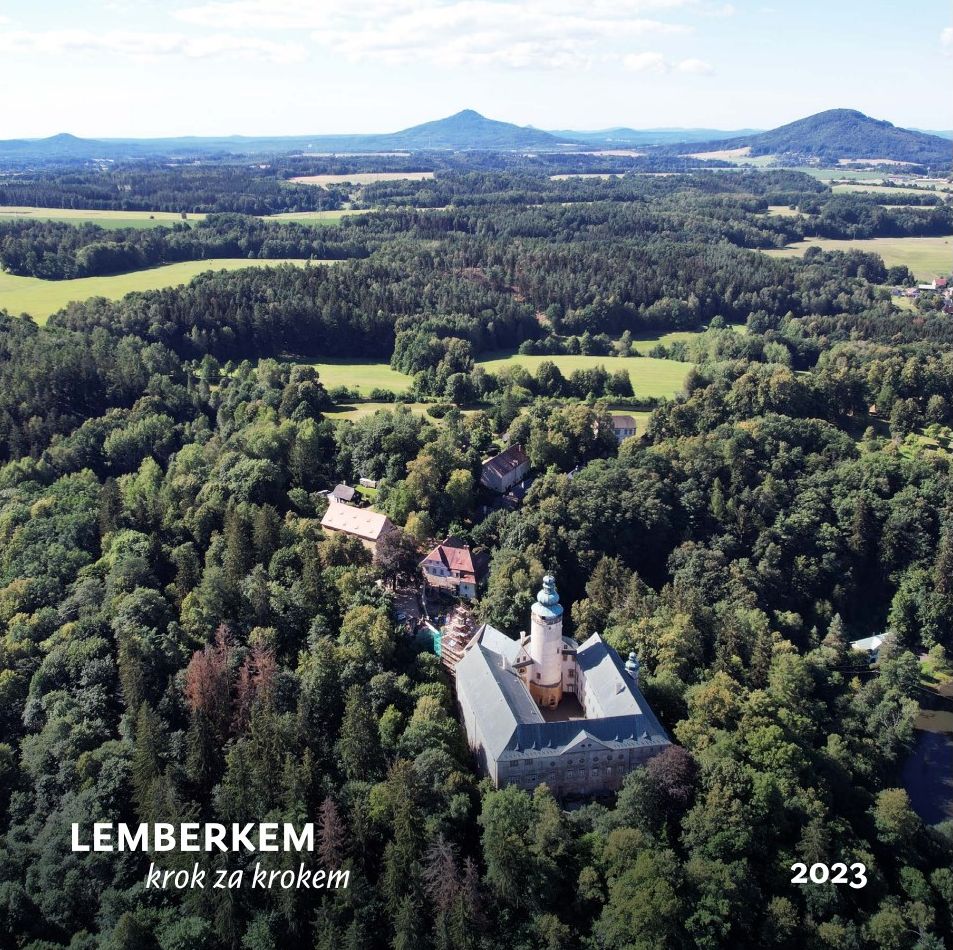 LATEST COMMENTS