INTERVIEW
DUNGSE, Building the future with SHIT
Feces is a generally unpopular subject for many, even though it is a renewable resource with plentiful ways of use. In this article we will focus on cow dung. Cow dung is mostly used as a soil fertilizer in our region. But this matter offers many more ways of utilization!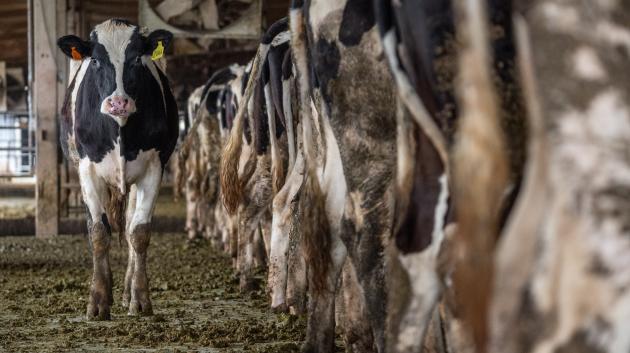 Interview: Valérie Záhonová • Photo: Unsplash, Joanne McArthur
---
Dry manure is used as a fuel and biogas in many countries. Surprisingly it does not smell at all while burning. It is also known as a traditional building material - a mud and cow dung paste is applied to the floors and walls of homes in rural parts of India. The mixture reportedly forms a waterproof layer that helps to insulate the house from heat entry or loss.1 And just as a sidelight, there are even notes on its medical use. According to Ayurveda, cow dung is germicidal and has specific healing properties.
We will talk about cow dung utilization in the world of materials with founders of Dungse start-up, Itika Gupta and Lindey Cafsia.
Where does the idea of making materials out of cow dung come from?
Lindey Cafsia: For generations, people in indigenous communities have been using cow-dung as an ecological fuel, insulation and construction material. We are based in the Netherlands. My colleague Atika comes from India. Both India and the Netherlands are traditionally agrarian nations with a big dairy and livestock sector. The Netherlands has close to 1.6 million cows, India close to 300 million. Both countries produce more cow dung than they can currently manage. The GHG emissions of this surplus dung is becoming a growing concern. We saw this as an opportunity to design a more sustainable and circular future.2
Itika Gupta: I am deeply familiar with cow-dung use in building practices. Lindey on the other hand has extensive experience in construction engineering. Three years ago we came together and started tinkering with this humble material and building upon all the indigenous knowledge, to develop a material that can utilize the surplus cow-dung and build a biobased composite material with it. That is how Dungse was born.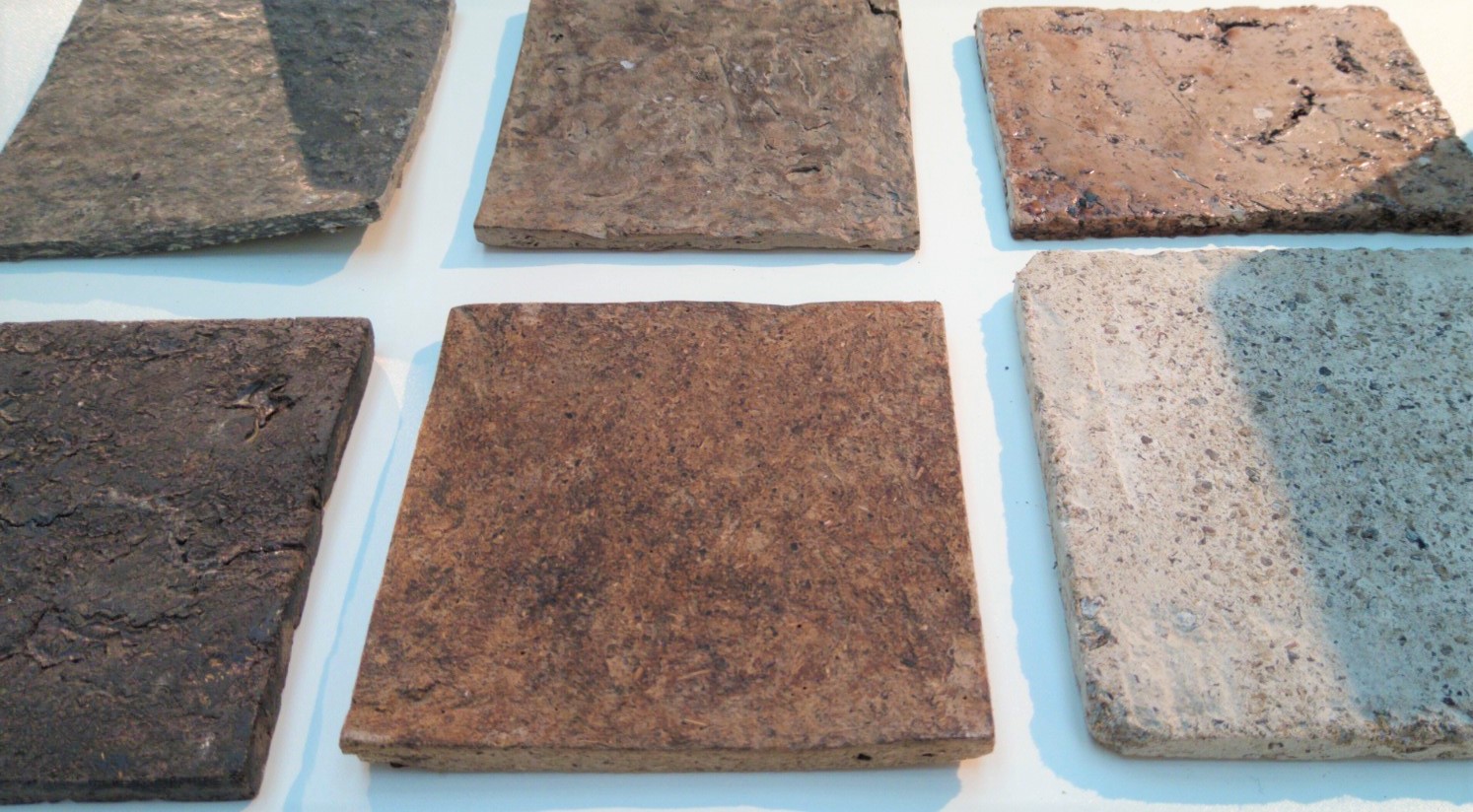 Various Dungse composites at London exhibition Architect@Work. Photo: Dungse
How long does it take to develop a new material?
LC: Material design and its readiness for the market is a comprehensive and extensive process, varying based on the product market you are trying to target. The more innovators with diverse skills collaborate, the faster the development process goes. We formed a clear goal of product development with subsequent boundaries: using only traditional production and manufacturing techniques, testing the material properties with frugal methods and using only locally available materials in the composites. These boundary conditions helped us to reach market readiness with Dungse fairly quickly.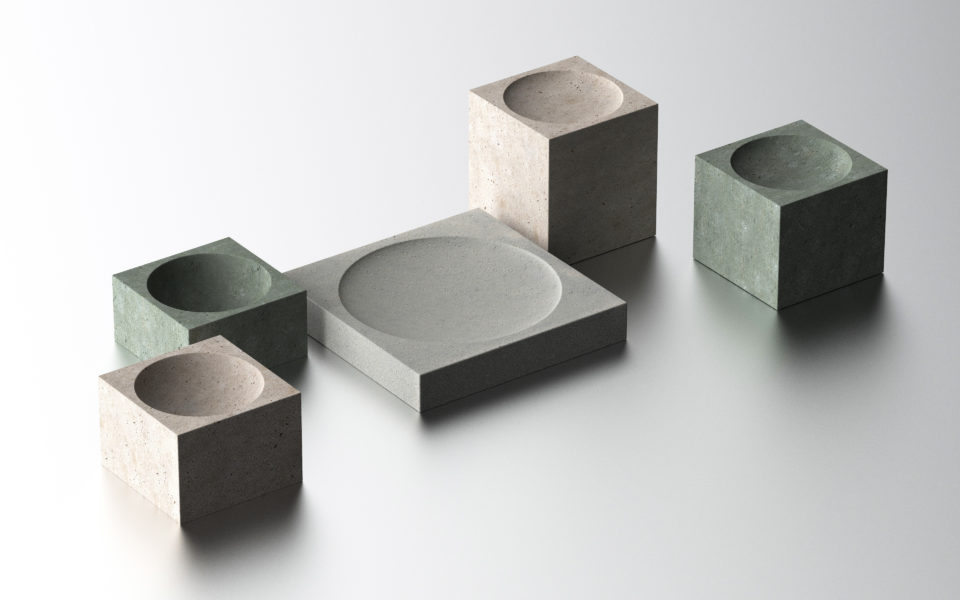 Cow dung exhibits properties like water repulsion, insulation, sound absorption and light weight. Photo: Dungse
IG: Our team has developed 16 potential cow-dung composites in 8 months. We then took our materials to Dutch Design Week and Architects@Work to get an early feedback. Public interest gave us the confidence to start applying for government grants for feasibility research. Also our collaborations with universities like Wageningen University and innovation labs like Bluecity have grown Dungse extensively.
On what materials do you currently work?
LC: We have narrowed down our pallet of composites down to two, Dungwood and Dungcrete. Dungwood is a substitute for virgin wood and traditional particle boards. It can be used for applications across furniture, false walls, wall facades and ceilings. Dungcrete is a substitute for traditional ceramics and concrete. It can be manufactured using molds as well as 3D printing into any shape.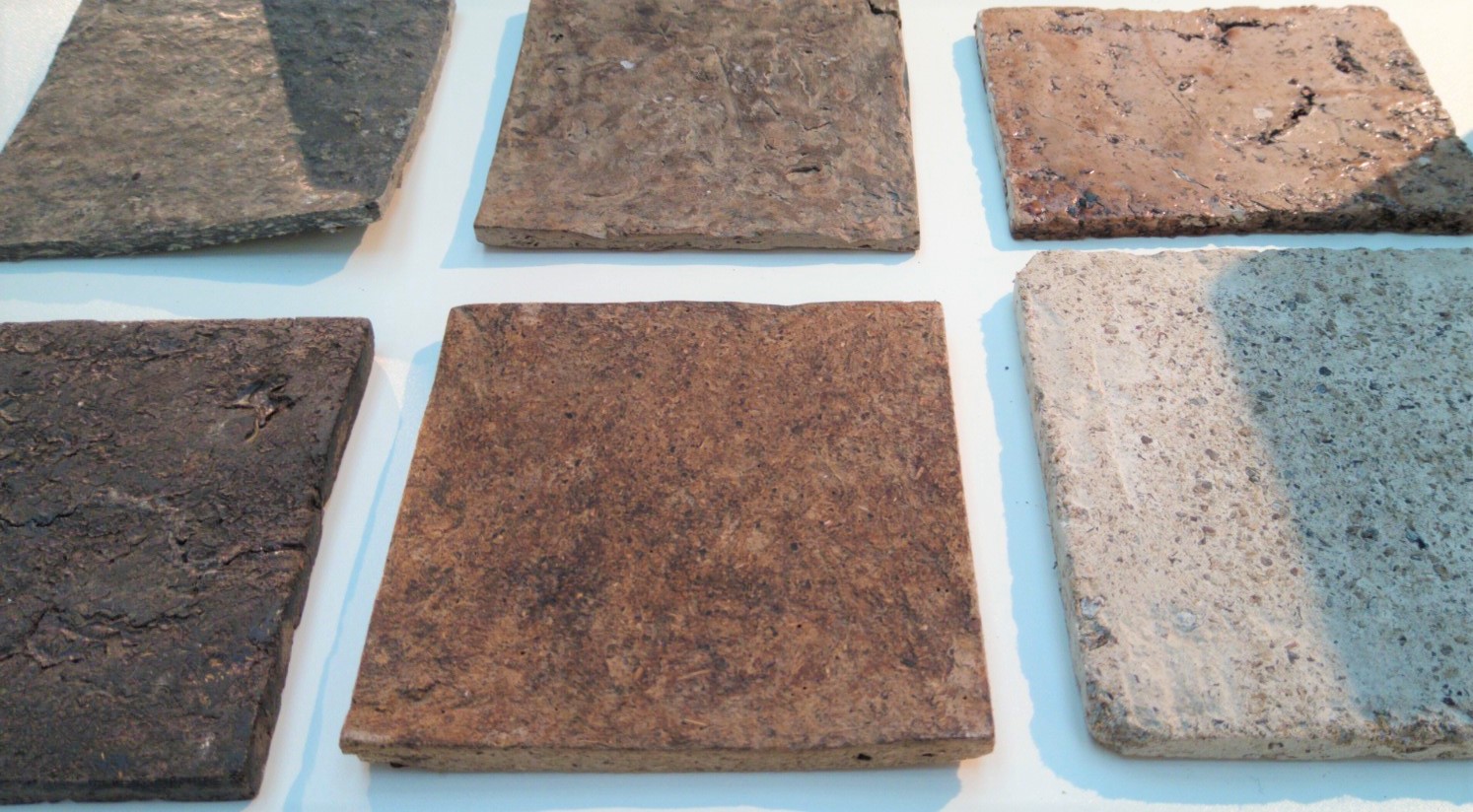 Dungwood, a particle board substitute that can replace virgin wood boards. Photo: Dungse
What applications of your materials have you already tried?
LC: So far we have used Dungse to develop bird and hedgehog houses, seed bombs, roof tiles that are 50% lighter than their concrete counterparts, table planters, 3D printed hollow bricks for construction.3
What is the most common reaction to your materials?
IG: Unlike popular belief, Dungse has garnered more appreciation at public events instead of disgust. Investors, governments, home owners or architects show enormous interest in our material and see the opportunity to build our societies with locally available materials. This has become even more apparent after COVID, which created material deficits all over the world.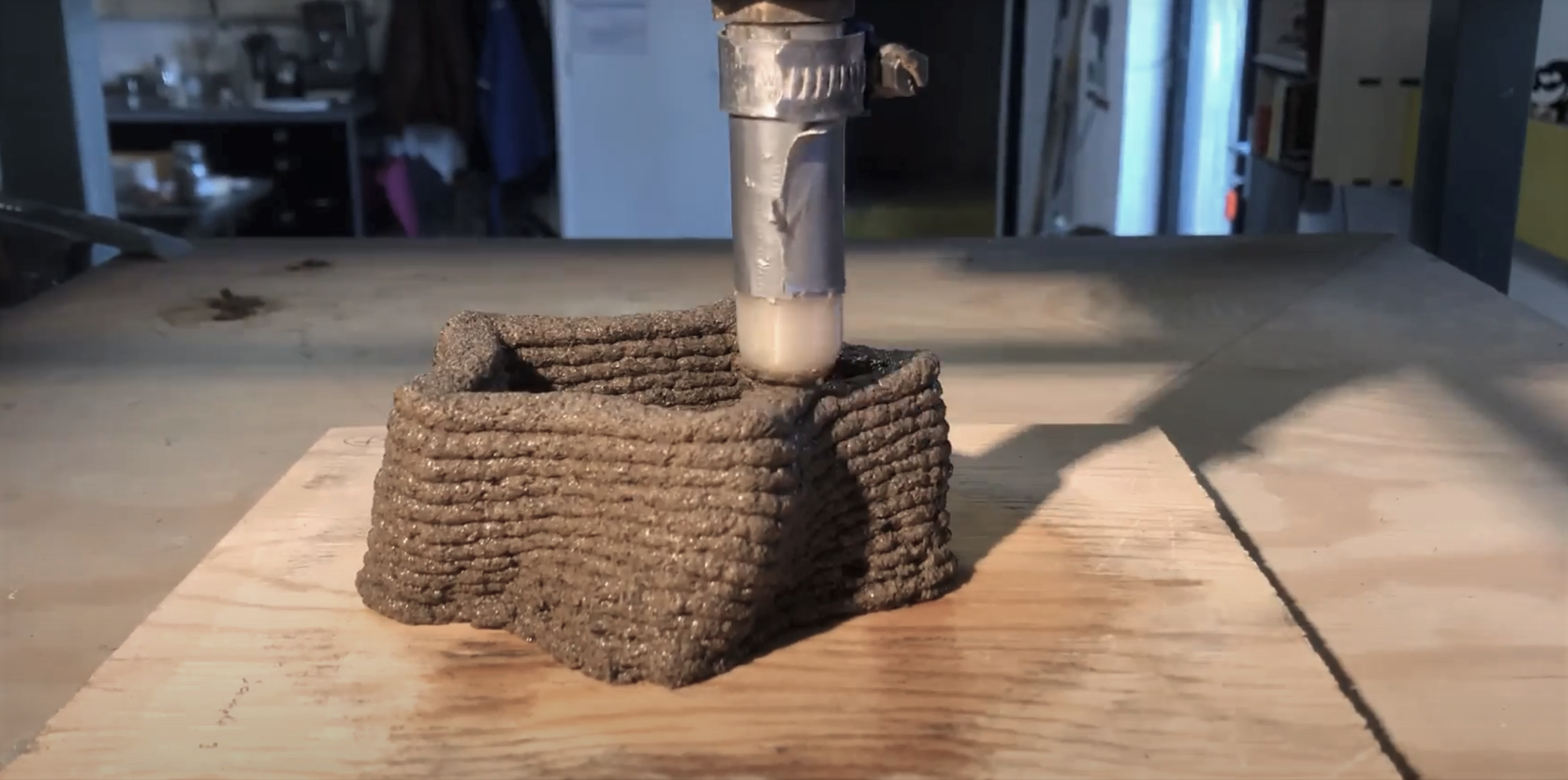 Dungcrete can be 3D printed or molded into a diverse variety of forms. Photo: Dungse
How big is your team at the moment?
IG: The core team consists of Lindey from Studio Lindey Cafsia and me. Our extended team includes 19 team members from Studio Carbon India that I co-founded. Studio Carbon helps us with communication design, material research and product ideation.
What is your next goal?
LC: In the next 5 years, we aim to build the world's first 3D printed tiny house house with cow-dung. Our Vision is clear - Building the future with SHIT. If nature doesn't believe in the concept of waste, why should we?

Itika Gupta is co-founder and CEO of Studio Carbon. Studio Carbon is an Indian-Dutch design studio working at the intersection of design, system thinking and storytelling. Studio Carbon has extensive experience in tackling diverse wicked problems like waste management, the orbital debri crisis, water treatment or mental health.
Lindey Cafsia is founder of Research and development Studio Lindey Cafsia. The studio combines sustainable design, material development, nature inspired design and building technology. Its approach is based on creating materials and products with a holistic perspective in which nature and the environment are not compromised.
---
1. Accesible at: The Many Uses of Cow Dung: A Natural and Renewable Resource
2. Despite its small size, the Netherlands has a reputation of a country that feeds the world. It is one of the leading exporters of dairy products worldwide. About 80% of farms in the Netherlands produce more dung than they can legally use on their farm. The dutch cows are producing so much dung that it is difficult for farmers to get rid of it safely. This leads to illegal manure dumping and breaking of EU regulations on phosphates designed to prevent groundwater contamination, and the high levels of ammonia emissions are affecting air quality. Accesible at: Dutch cow poo overload causes an environmental stink
3. There are many other cow dung uses. Almost 50% of cow dung contains fibers and cellulose. The fiber portion can be converted into good quality hand made papers.1 The poo paper making process is not limited to cow dung only. Elephant or horse dung as well as other animals dung can be used for tree-free paper manufacturing. Accesible at: Method For Making Paper Using Cow Dung
25. 3. 2022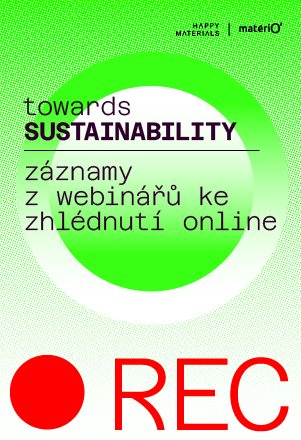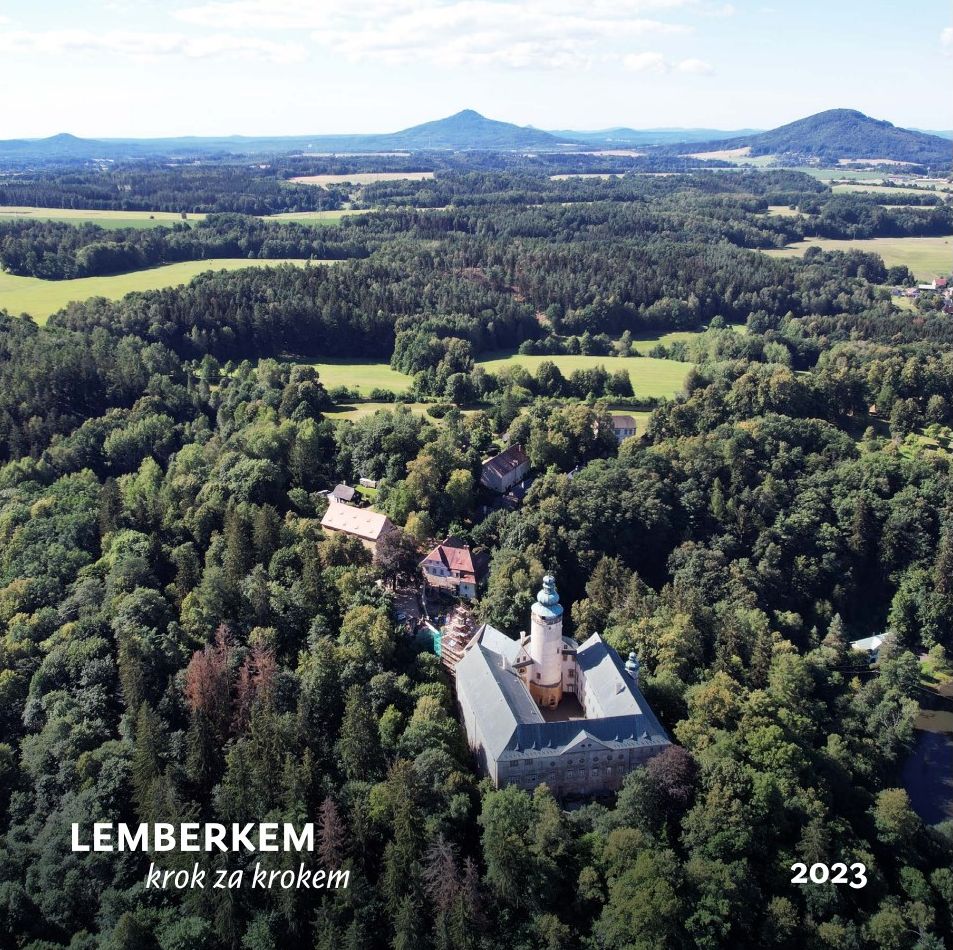 LATEST COMMENTS