Interview
PINEAPPLE-BASED MATERIAL RIVALS ANIMAL LEATHER
In 2019, fashion designer Francesca Nori patented an innovative production process that made it possible to produce the first real pineapple leather. The material called Ananasse™ could be used to replace leather in the fashion industry. To market Ananasse™ she and Fabrizio Moiani co-founded Vérabuccia®. "Because of its scaly appearance, it looks like leather from an exotic animal," says Francesca. We asked her for more details.
Interview: Jana Přistoupilová • Photo: Vérabuccia®
---
How did you come up with the idea to create Ananasse™?
The idea of using pineapple peel in place of exotic leather was formed toward the end of my studies in Rome. Initially the development process was guided solely by intuition and design experiments. Linking the original vision with an Italian company's technological capabilities led to the development of a completely novel production process, one that was environmentally friendly, plastic-free, and allowed the material to maintain its pineapple rind appearance without flattening it. Developer Fabrizio Moiani started collaborating on the project in 2020, and we established Vérabuccia®. We're continuing to work on optimising the patented technology.
Why pineapple?
Every year, about twenty-five million tonnes of pineapple are grown around the world for the food industry. But only a third of the pineapple is consumable; the rest is thrown away. According to recent data, Italy is Europe's fourth-largest pineapple importer, generating nearly one hundred thousand tonnes of pineapple waste annually. We can also expect that climate change will significantly reshape agriculture. This tropical fruit is already being grown in various parts of Italy, like Sicily or on the Amalfi Coast – but I'm already thinking ahead a bit.
Where do you source your pineapple peels? Do you work with companies in the food industry?
For now we're using peels from hotels and restaurants. As demand increases, we plan on teaming up with Italian fruit processing companies for IV and V range products1.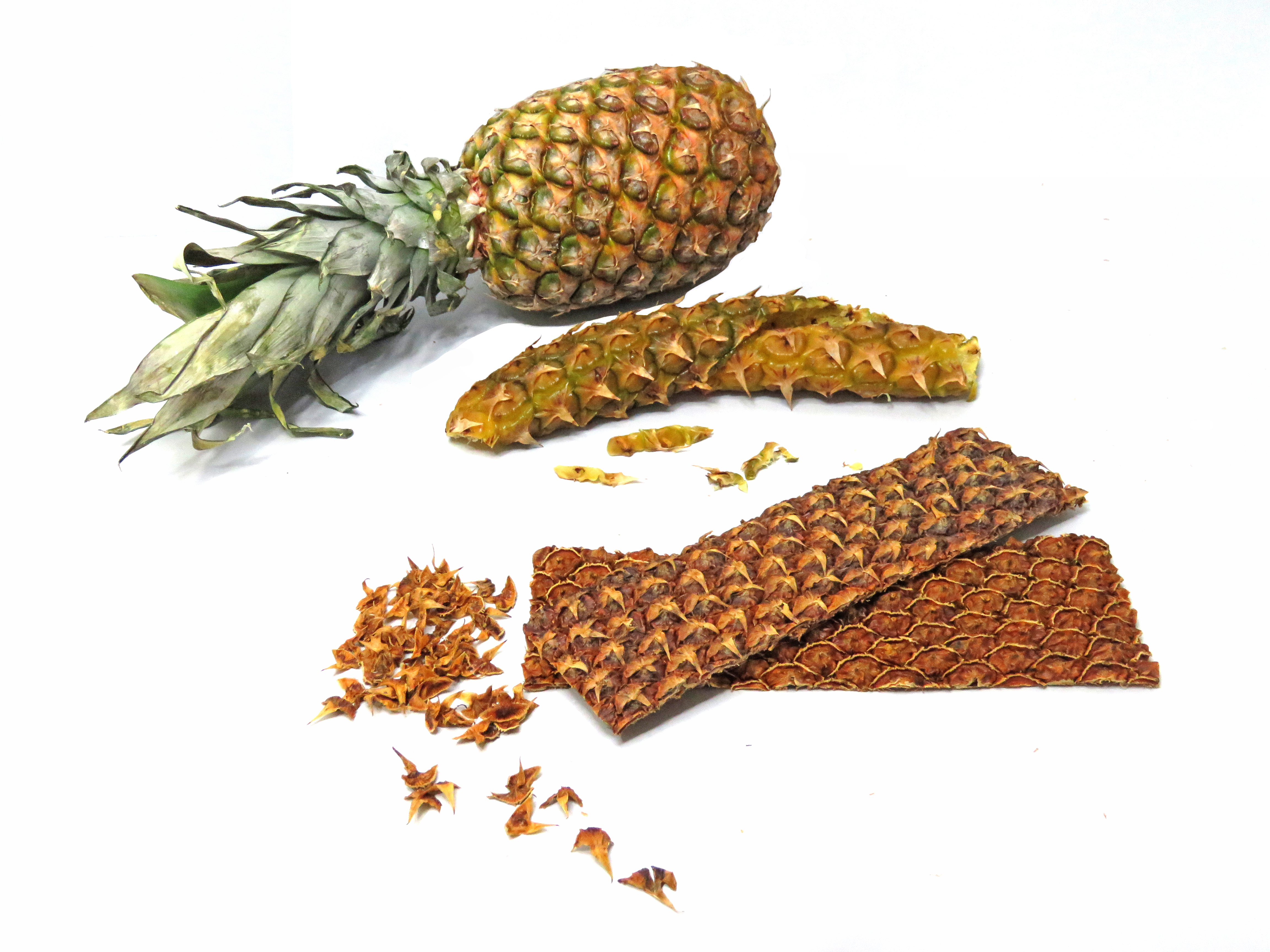 Ananasse™ won the Techtextil Performance Fashion Award
at the Techtextil 2022 trade fair in Frankfurt. Photo: Vérabuccia®
How is the material produced?
The pineapple peels are treated in a manner that allows them to retain their original appearance and structure. This makes it very different from the broad range of other plant-based leather alternatives. Processing products creates relatively small but soft, robust sheets. The final stage focuses on the surface treatment. Even though we've patented the production process, we're still trying to improve it. For example, we'd like to supply the material in larger sizes. To do this we'll need to add some sort of backing support that will hold the smaller sheets together. Although the material itself is very strong and doesn't need support, producing larger pieces will make it a necessity.
What are the material's properties and lifespan?
We have performed several tests to measure how resistant Ananasse™ is to abrasion, heat, tension, light, and moisture. The results were very good, but we haven't tested the material's lifespan yet. What I can say is that we produced the first Ananasse™ prototypes in 2018, and they still haven't changed in appearance or colour. However, I must add that how and under what conditions the material is used play a major role.
Is Ananasse™ water-resistant?
It is, but unfortunately not to the same extent as other materials – for now. We're still conducting research on it and improving it. Perhaps we'll be able to do something similar.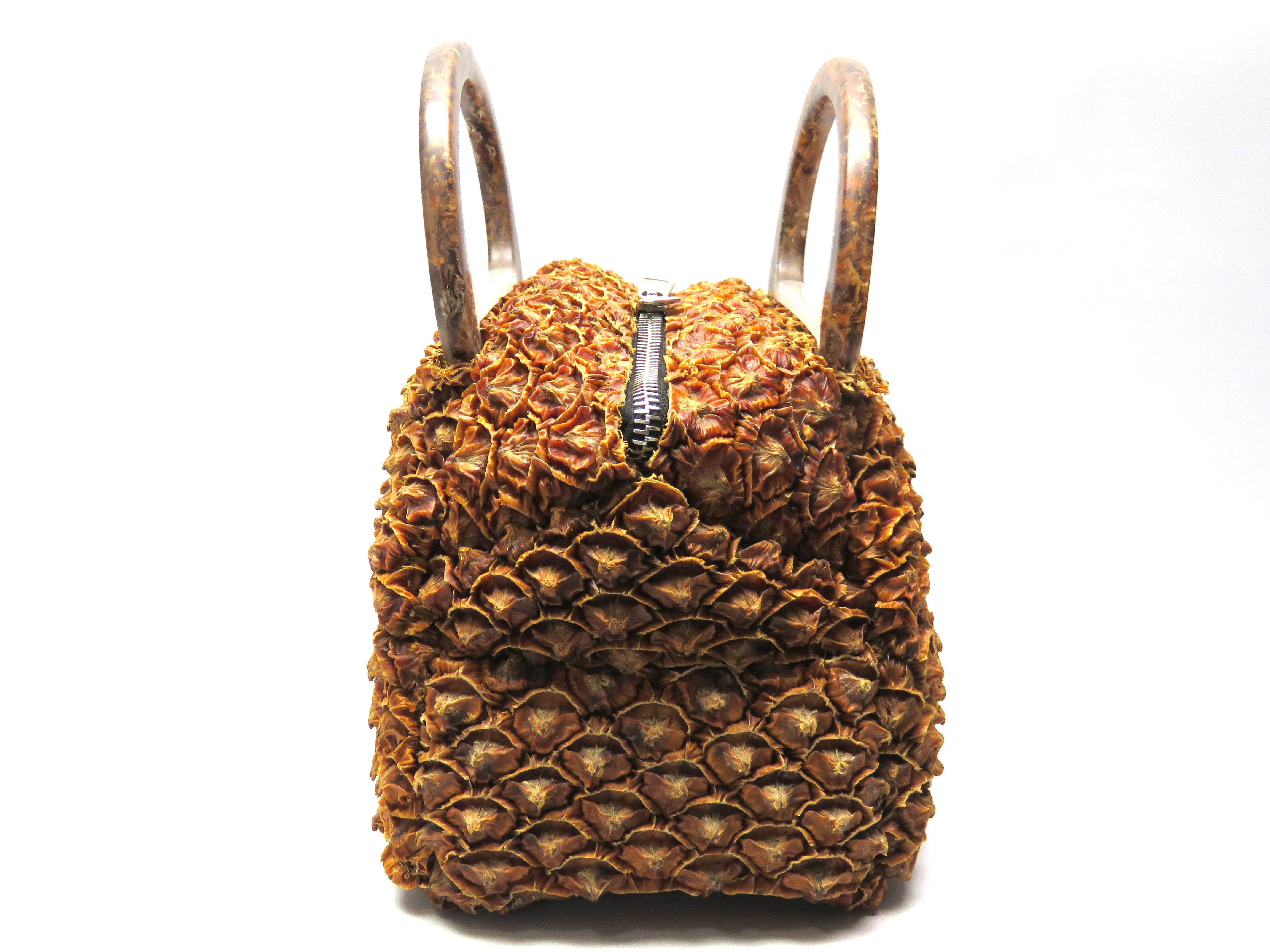 Ananasse™ resembles exotic leather. Photo: Vérabuccia®
What kinds of applications are best suited to the current Ananasse™?
We primarily want to connect with luxury brands in the fashion and design sectors. Customers who want a fresh new alternative to regular leather… The material can be used to make fashion accessories, but it could also be interesting in interior design, furniture, or wall coverings. We are able to supply it with backing made of GOTS-certified cotton or in a variable composition to facilitate the design process. This is made possible by a certified eco-friendly adhesive that has zero effect on the material's softness and flexibility.
What are your plans going forward?
We're thinking about reaching out to customers in the market segment with the highest sales of Vérabuccia® products. We want to reach out not only to fans of vegan and organic alternatives, but also to leather enthusiasts – both locally and abroad, which is where the greatest demand is coming from. But we're visionaries and we don't want to just stick to the recovery of pineapple peel only. We'd like to expand our portfolio of materials to also include other fruits peel. For us right now it makes sense to mainly focus on inedible peels, as in the case of pineapple, that are difficult to utilise and take a long time to biodegrade.
Notes:
1 In Italy fresh, cleaned, cut and ready for consumption food products packed in closed packaging (also referred to as "ready to eat" or "ready to use") are called IV range products, while V range products are semi-finished products cooked and subsequently vacuum-packed or packed in a protective atmosphere, such as those in cans or fruit juices.
27. 4. 2023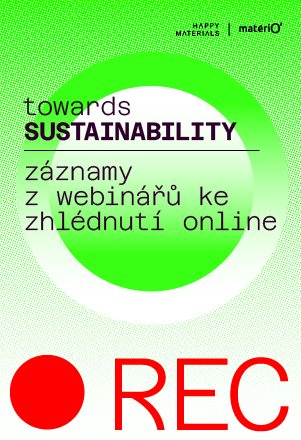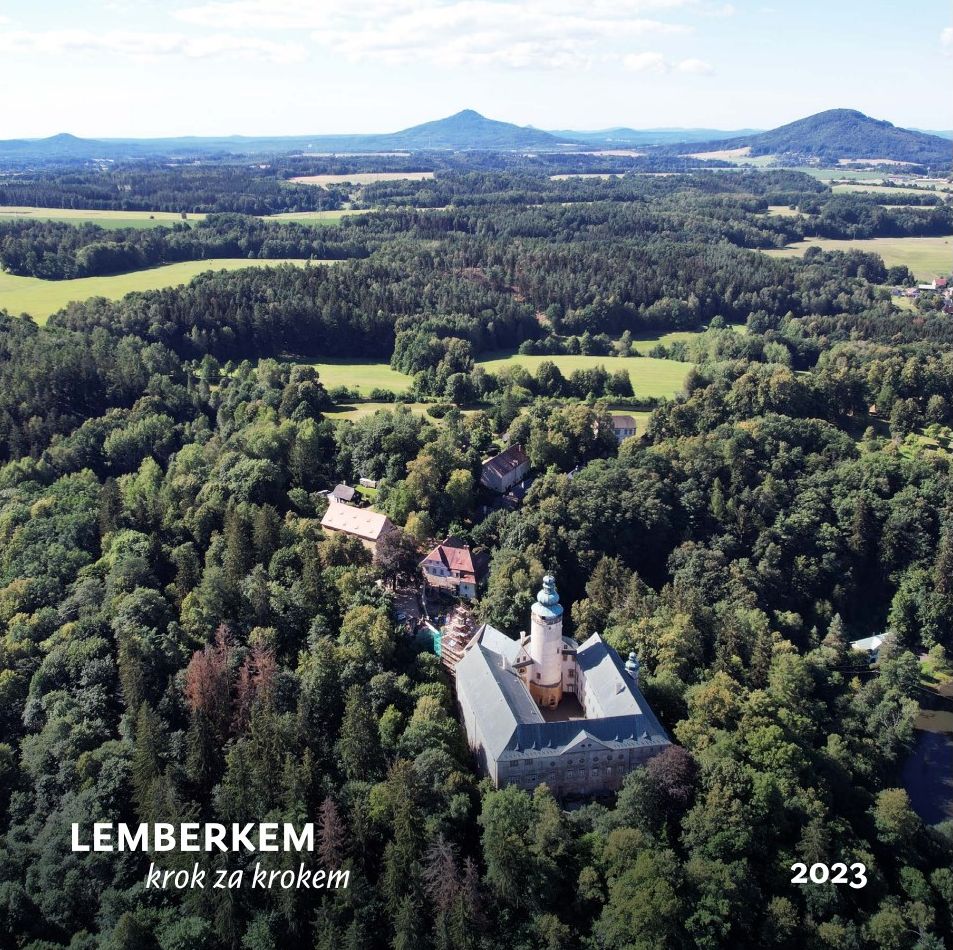 LATEST COMMENTS