What Matters
Experimental architects employing drones or thousands of silkworms will meet in Prague
World known architects focusing on experimental architecture will meet in Prague. The Biennale of experimental architecture will open on September the 3rd and last until October 18th. During this time, it will offer a new perspective on the contemporary architecture, where authors are using experiment, digital technologies, new materials and knowledge form the world of science.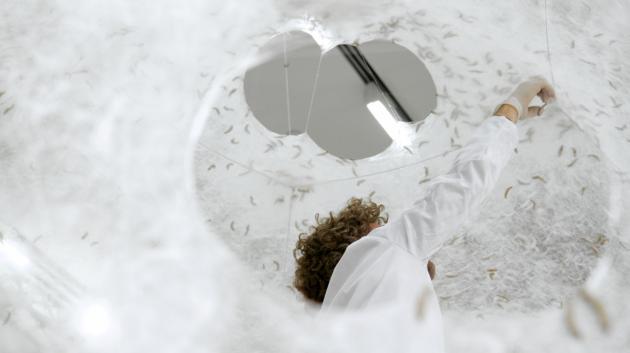 ► českou verzi článku najdete zde
This year's exhibition follows successful first edition, which was held in Prague two years ago and was also organized by the Jaroslav Fragner Gallery together with the Academy of Arts, Architecture and Design in Prague. The first edition presented projects by Zaha Hadid's students, Patrik Schumacher or Hani Rashid. This year it will be mainly experimental architecture studios. Some of the projects will be presented by their authors during the international symposium that will take place on Nákladové nádraží Žižkov, on the 15th of September.
Given the digitalization and complexity of the projects, it could be expected that they will be all presented only as proposals without realization. Nevertheless, many authors will prove the visitors wrong. Thanks to modern machines, 3D printers and robotic arms, the realization is possible, even with projects using very complex shapes that one would hardly create with such precision.
This is evident from the Silk Pavilion by Neri Oxman, star US designer and professor at the Massachusetts Institute of Technology. Its construction combines digital prefabrication with natural process. It consists of several polygonal frames, between which a robot strained a think silk thread. Afterwards, members of the research team deployed thousands of silkworms that completed the design by their silken fibers. A giant cocoon was created. The pavilion, which will be introduced during the Biennale, shows effective approach to architecture, in which buildings are formed with a minimum of manpower, with respect to the environment and is based on knowledge of natural processes.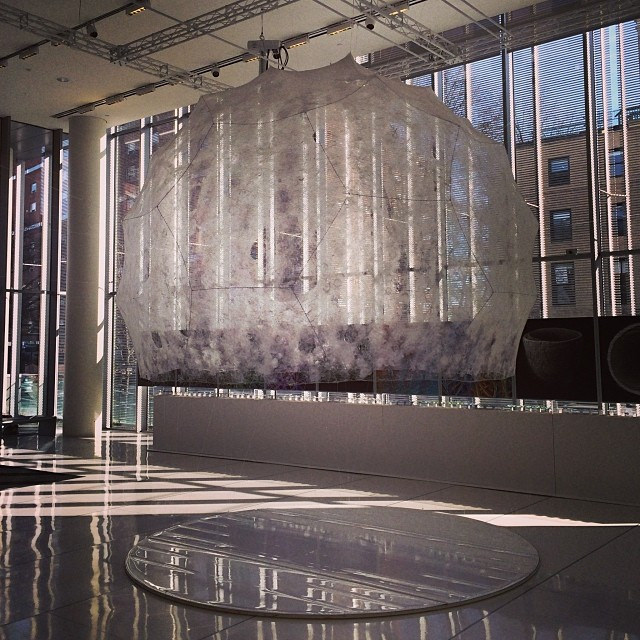 "Nature does not divide between the architect, the engineer, and the construction worker," says Neri Oxman. (Photo by Aaron Muszalski, Flicker, 2015, CC BY 2.0)
Similar approach is also used by the Swiss architects Gramazie and Köhler. They are known especially for their six-foot high tower made of lightweight bricks, which was built using drones and current knowledge about the processes of self-organization. A building, where the architect uses such methods and spontaneous processes, can be created only because of the communication and cooperation between various actors - in this case the drones. The Swiss duo will not bring a flock of drones to Prague, but will present a large-format color installation Iridescence Print.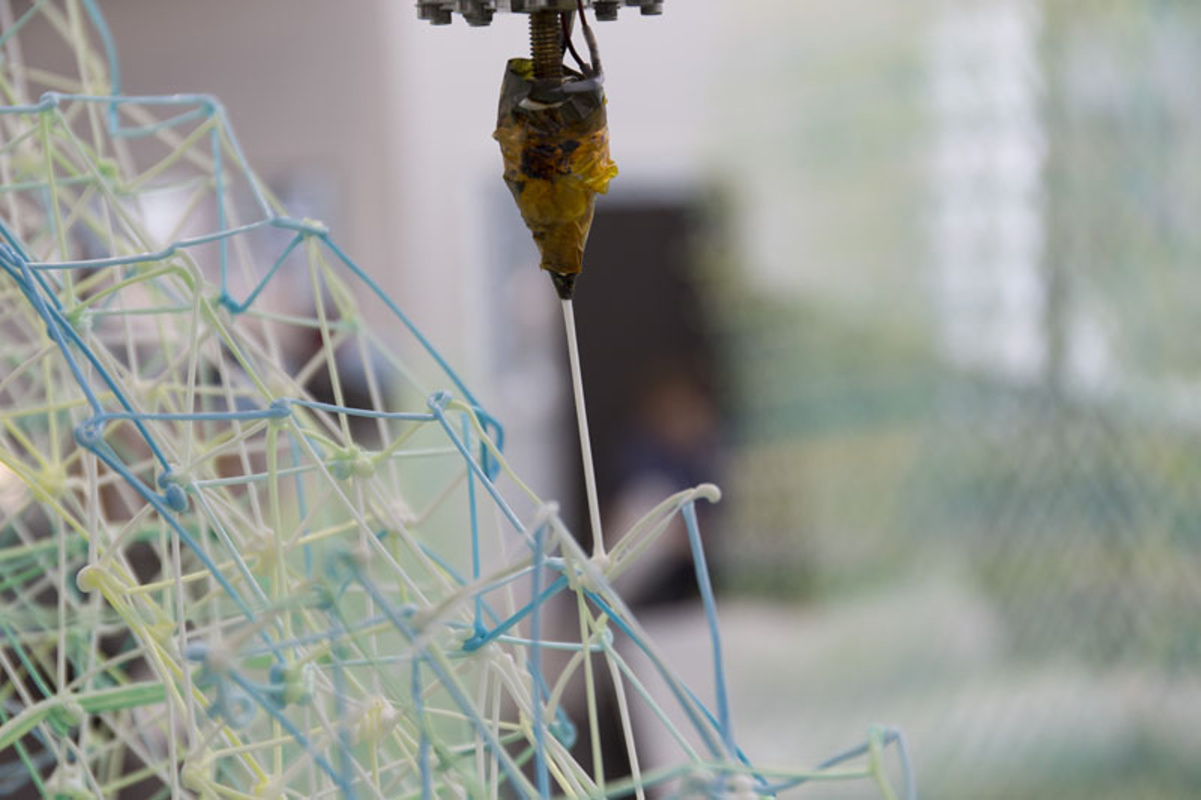 Iridescence Print was printed automatically using the robotic arm.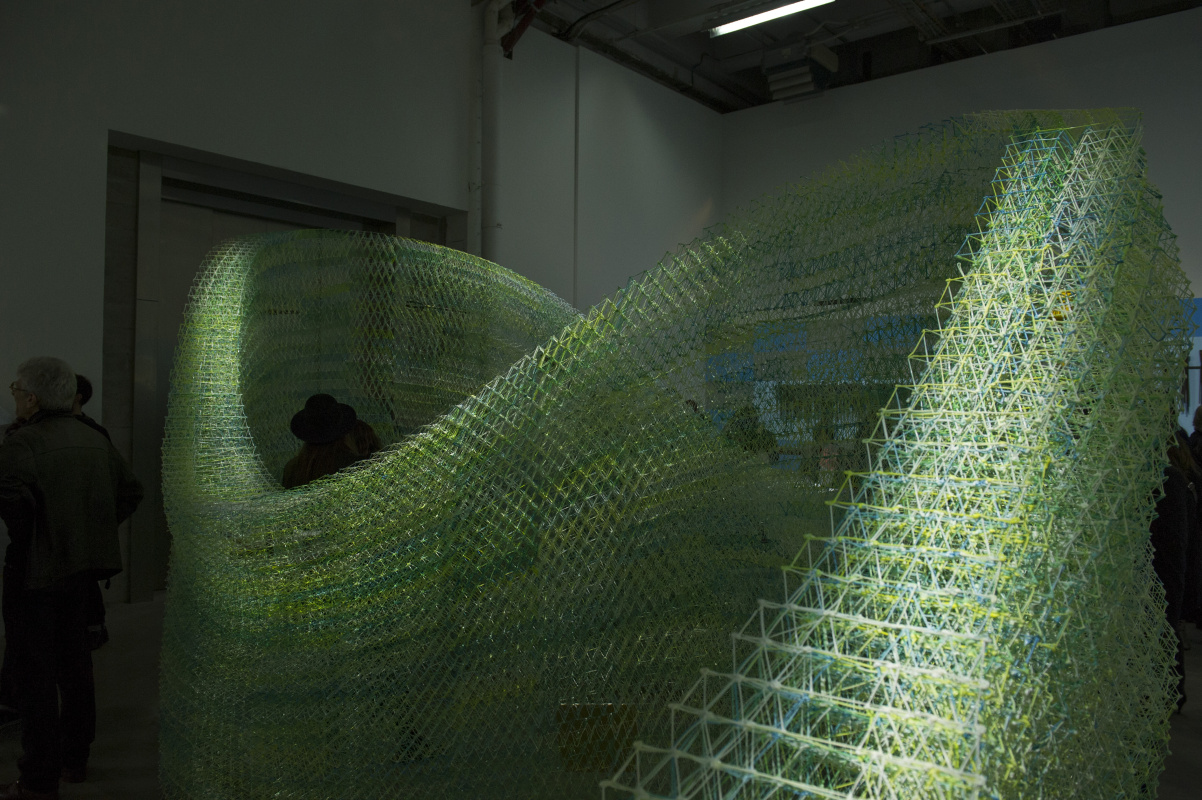 And thus possible to create a very complex structure with high precision, minimal material and good stability.
From drones it is not far to Biomimicry, which is a field focusing on the exploration of natural structures and their further usage. Experimental architects are also using the knowledge of nature. "In nature materials are expensive and shape is cheap" says Yaniv Peer of Exploration Architecture, that will present a new Biomimetic Office Building in Prague. " This building represents a new paradigm – being the first office building to date that has been comprehensively designed with biomimicry. The team looked at over 100 different organisms to develop the strategic form, structure, façade and environmental performance," says Peer, who is already familiar with Prague. Previously, he had worked with the architect Jan Kaplický. "Working with Jan was one of the most rewarding experiences of my life and taught me a great deal about the beauty of form and the importance color in architecture," he recalls. He is therefore pleased to come again.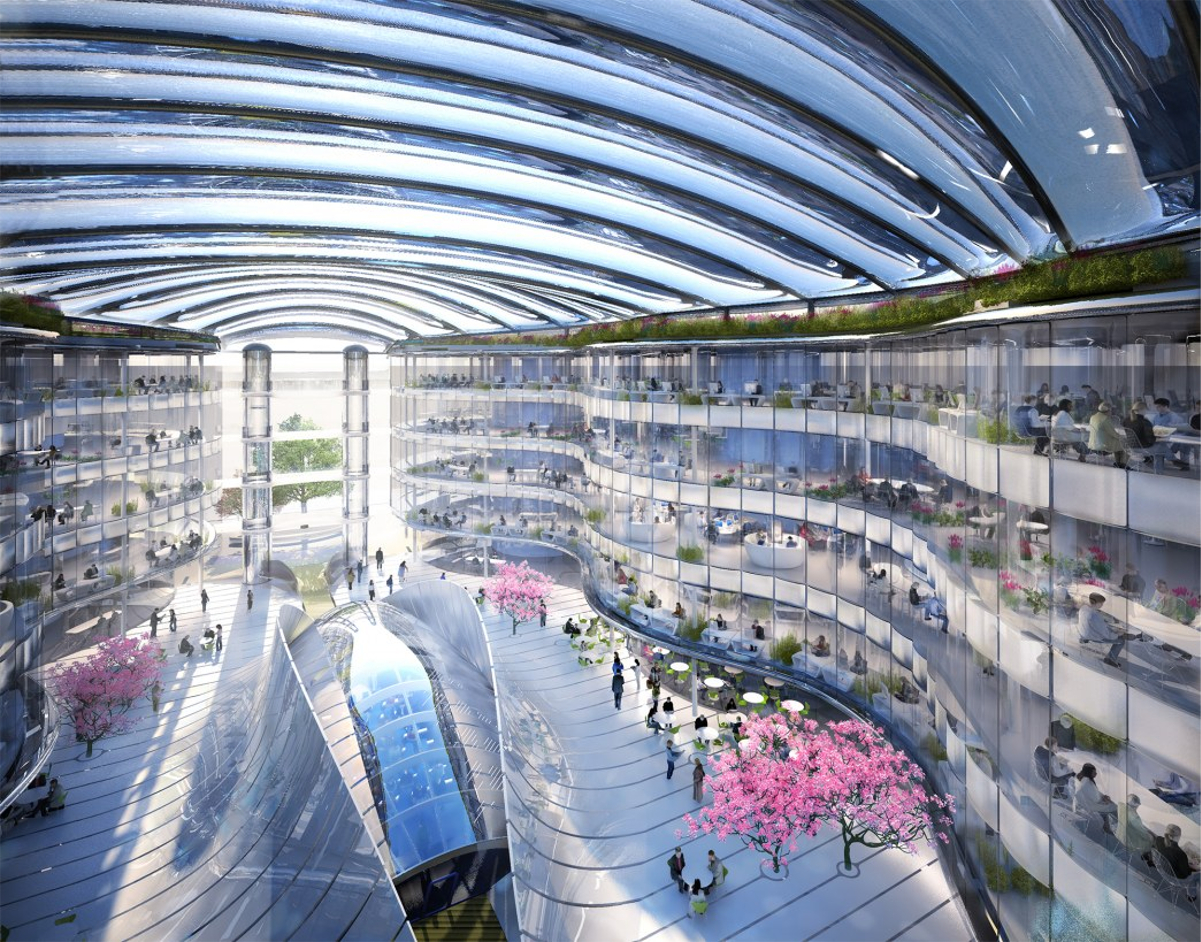 "Technology of 3D printing has now allowed us to move towards a form of construction that selectively deposits material exactly where its required removing the cost barrier that has inhibited us from creating complex and super-efficient structures. This approach allows us to move towards the sort of resource efficiency found in nature and produce intricate and lightweight structures similar to those found in the bird skull," describes current possibilities Peer.
"I am very interested in rhythm, which we then in our studio MONAD apply to different materials and sizes, from urbanism to musical instruments," says another Biennale exhibiting artist Eric Goldemberg. "In regards to the aesthetics, much of our work is inspired by the lush nature that surrounds us in Miami where strange natives species like mangroves and strangler fig-trees grow in wild configurations of multifarious roots and intricate feedback-like relations of parts to whole," he adds. Their 3D printed music series titled MULTI had its world premiere at Jacob Javits Center in New York, where famous Metropolitan Opera cellist David Heiss tested their monovioloncello. During the biennale, there will also be a musical performance on one of the instruments.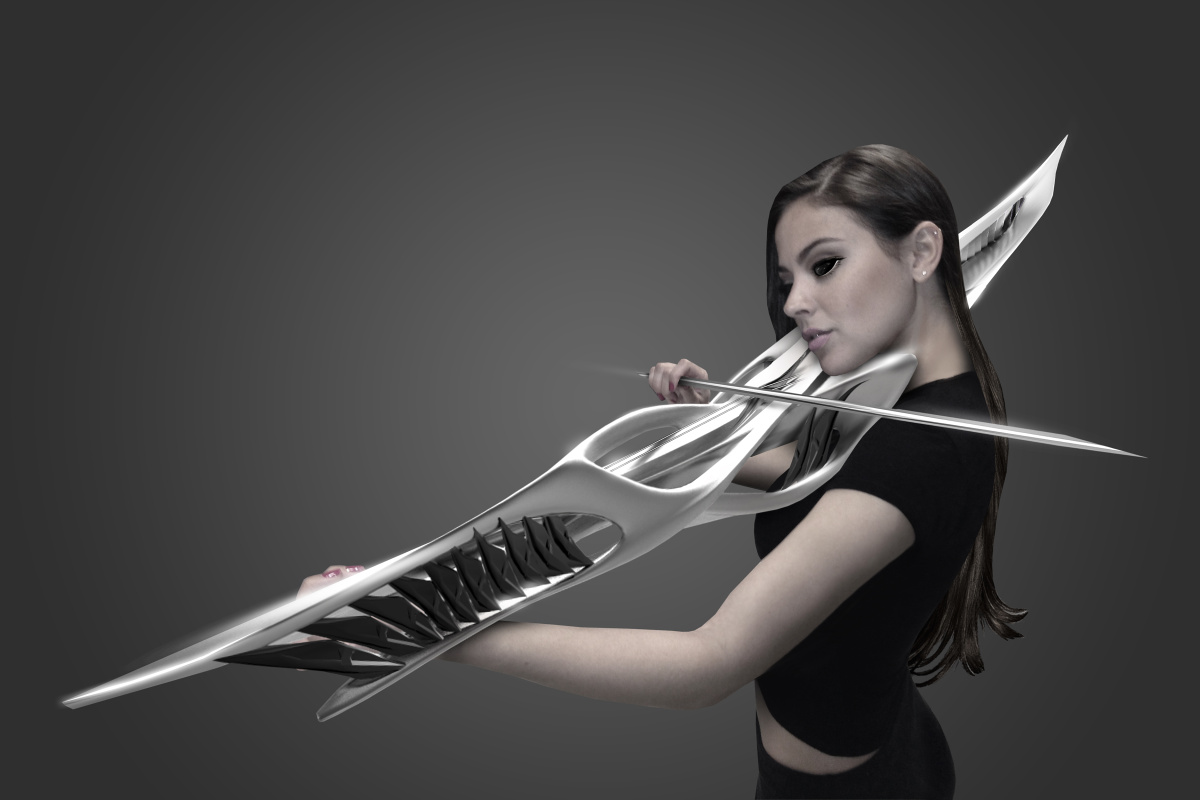 "Our interest in sonic installations and music instruments coupled with digital fabrication resides in the mapping of postures of the musicians which allow for the formal exploration to enhance the sonic freedom of a new kind of synthesis between body, space, music, and prosthetics aided by computation and rapid prototyping. In regards to the aesthetics, much of our work is inspired by the lush nature that surrounds us in Miami where strange natives species like mangroves and strangler fig-trees grow in wild configurations of multifarious roots and intricate feedback-like relations of parts to whole," notes Erik Goldemberg.
Not only around fig-trees but also in the Czech Republic, we can find authors who are engaged in experimental architecture. One of them is Jindřich Ráftl, author of Silent Lab exhibition at the Czech House at the Milan Expo 2015. He is the co-founder of the progressive studio R / FRM will showcase project Exploration Honeycomb, which maps the behavior of bees community. "If we could decipher the algorithms used by colonies of bees, it could greatly help us in the future construction of houses and cities," says Ráftl. "Research of the biological processes, based on the laboratory experiments, provides us with unexpectable solutions for space, structure, materials and fabrication," he adds.
The fact that the architects are serious with their experimental projects was also recently confirmed by the prestigious competition to design the new Guggenheim Museum in Helsinki. There were several proposals from architects using digital architecture; two of them will be on the Prague Biennale. Gilles Retsin designed a building with negative carbon footprint, made of recycled wood. The building is most notable for its roof that was created by a special algorithm.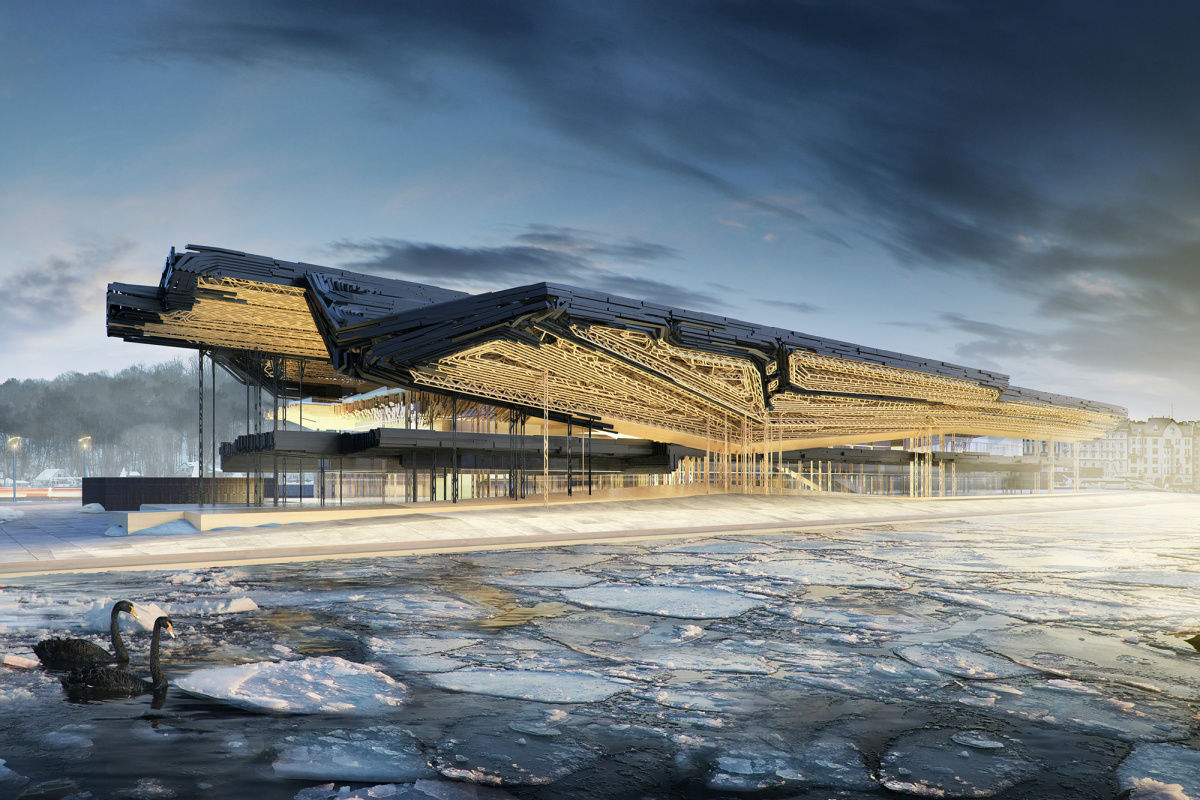 "The algorithm's rules are non-referential to an existing, natural algorithm. It's rules are purely based on architectural concerns: distributing a large amount of timber elements with the same length and diameter, and the same connection angles into a space frame-like structure. This works through generating a series of equally spaced contour lines, which roughly follow directions of stress and after that, diagonal connections are generated between the lines," describes the principle of the algorithm Retsin.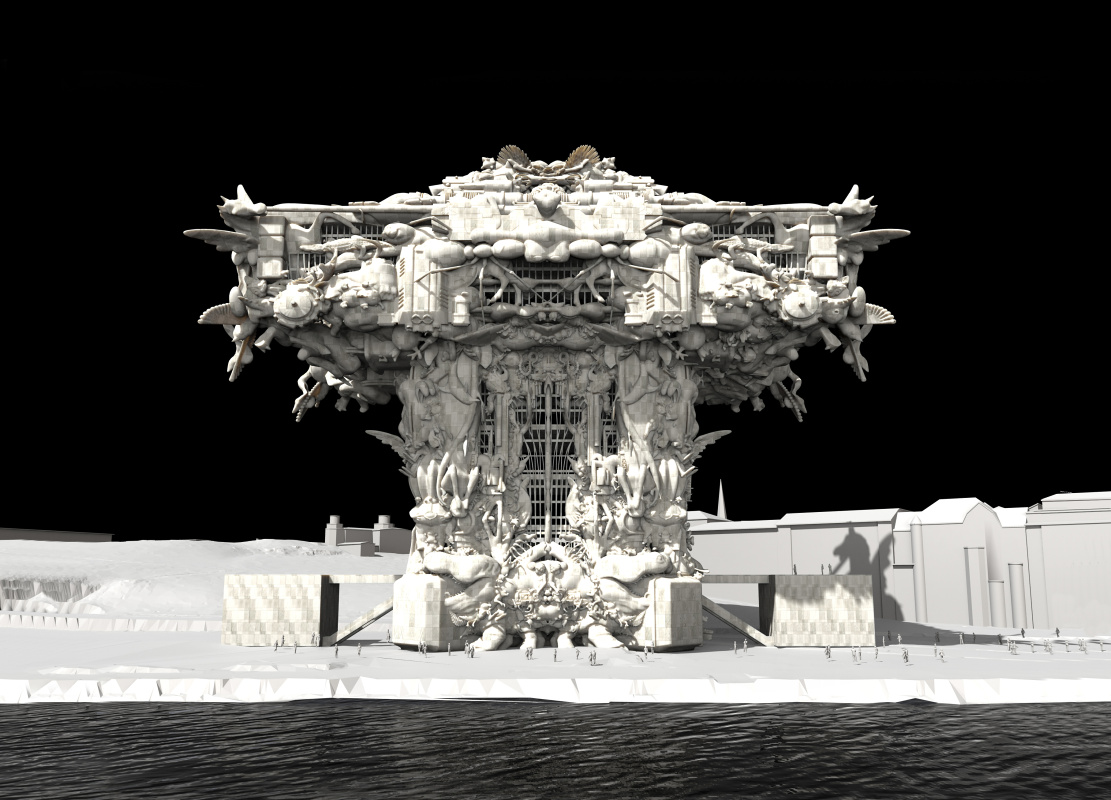 The author of the second project Mark Foster Gage says: "There is likely a ton of bullshit that we could tell you about regarding it's process, or how its sustainable, or how it fits into its context symbolically, but none of it would really be true. We designed it because we liked it and thought it was great. We hope you like it too."
Another motivation of the experimental architects is described by Martin Gsandtner, the founder and chief organizer of the Biennale, who also teaches at the Academy of Arts: "After the industrial revolution, the digital evolution and in today's postdigital era, we are trying to explore and understand the logic and techniques of architecture, design and art through science, nature, technology and human resources." In his eyes, experimental architects (including himself) mainly disrupt, optimize and simulate. "We focus on speculative and digitally encoded community-based algorithms, new synthetic material and generative methods that allow us to expand the common vocabulary and formal design concepts," he says.
Today, some large international architectural studios are building research division, where they deal with similar issues. Schools are establishing studios, which focus only on this way of creation. Digital and experimental architecture is gradually seeping into classical architectural design, although so far mainly in the form of parametric design.
"I think that in the future, we will discuss this issue more and more. Parametrics is now one of the most important tools to achieve the maximum quality in architecture and especially in its practical use, "notes Andrew Chybík, the founder of Chybík + Krištof Architects and co-author of the Czech pavilion Expo 2015.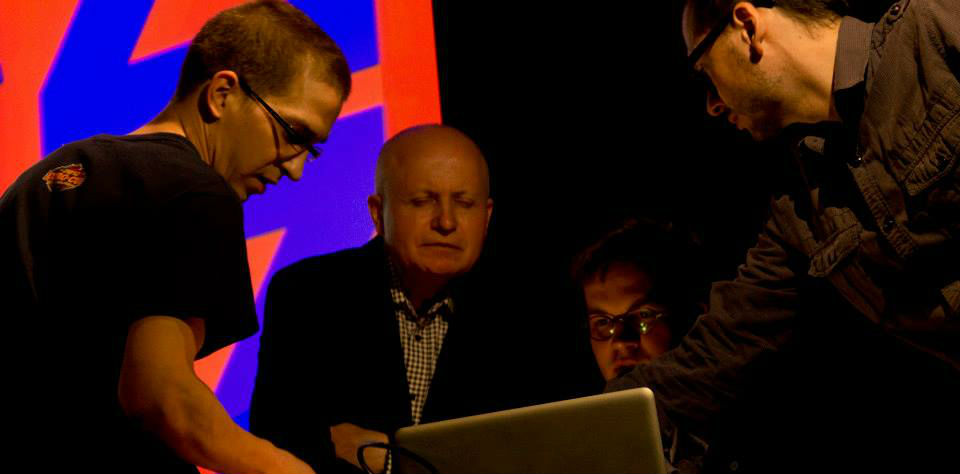 Two years ago, it was Miloš Florián from the Faculty of Architecture of the Technical University in Prague, who spoke at the international sympozium. This year, it will be Jindřich Ráftl, Eric Goldemberg, Gilles Retsin, Anastasios Tellios, Kristina Schinegger, José Sanchez, Roland Snooks or Adam Vukmanov.
According to Dita Malečková from New Media Studies at the Faculty of Arts at Charles University, the question of experimental architecture is not limited only to the architecture community. "House as a medium is a very interesting topic. It reminds me of Ray Bradbury's The Martian Chronicles where is a story about an intelligent house, whose inhabitants had all died and at the moment of the narrative, the last one of them, which is a dog, is also about to," says Malečková, who is looking forward to the Biennale.
The future might be in the stars, but already today a series of experimental projects shows that architecture does not need to be based only on the traditional sketches by the architects. The role of the architect is changing. He is becoming the coordinator of digital and manufacturing tolls, which he uses to optimize his outcome. Rather than a pencil, an experimental architect needs a bunch of data, programming skills and a knowledge of current possibilities. The result is formed on the basis of several parameters and data. Recycling architectural design from the past is thus almost impossible. Experimental architecture works with a new morphology, which is based on logic. This year, visit the Biennale in Prague on your own. Next time, it might be a flock of drones that will transport you to the gallery, and ultimately, it will be a virtual tour from home, which will be built by the silkworms.
31. 8. 2015 Text by Jan Petrš (Translated by Kateřina Hendrychová), Cover image: Silk Pavilion by Neri Oxman , Images by Jaroslav Fragner Gallery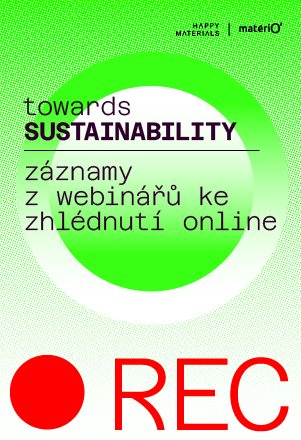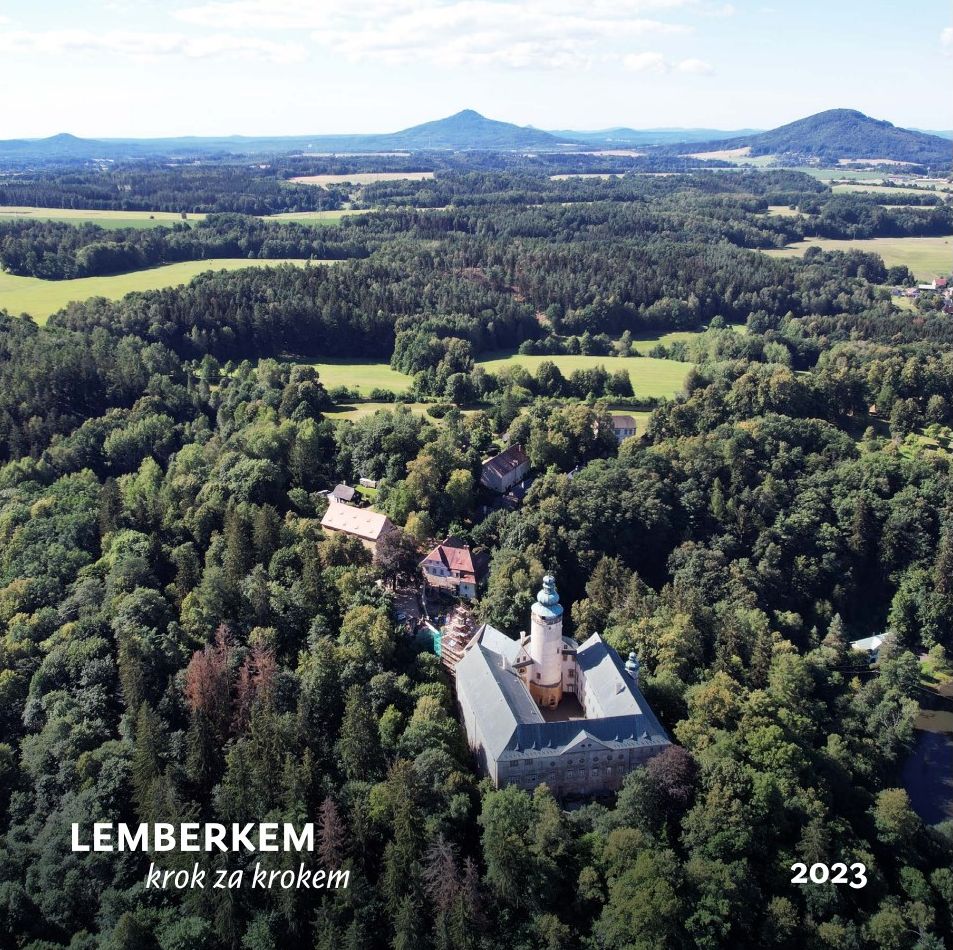 LATEST COMMENTS